Katherine Kelly: Coronation Street star back on stage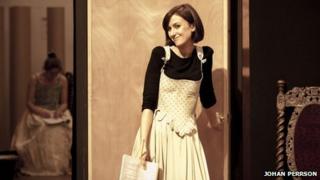 For five years, Katherine Kelly has played Coronation Street's mouthy, stroppy Becky McDonald. Now she is adjusting to life away from the cobbles on stage at the National Theatre.
"I've been at the National now for six weeks now and I still don't know where I'm going! It really is the rabbit warren of all rabbit warrens, I tell you."
We are in a small studio in the depths of the National Theatre, where Katherine Kelly is in final rehearsals for Oliver Goldsmith's 18th Century comedy She Stoops To Conquer.
She finished filming the final scenes for her blonde alter-ego, Becky McDonald, in mid-December. But her final episode airs this week on ITV1, just as previews for her new play begin at the NT's Olivier Theatre.
"I never thought that one character would keep me interested for five years, but she really did," says Kelly of the TV role that has brought her national fame.
"She was like seven characters in one. We got to see the young and fun Becky, we got to see her first proper love affair, we got to see her maternal side, it really was a massive journey. She was so rich and deep."
'Twitch of an eye'
For the Rada-trained actress, her role as Kate Hardcastle marks the resumption of a stage career that included several productions with the Royal Shakespeare Company (RSC).
It means the rediscovery of some old skills. "I guess it's turning up the volume on everything. When I first started in Corrie I'd been at the RSC for 18 months and I had to train myself to take everything down."
Kelly adds: "It's using completely different muscles to television, where your most emotional moments are done in a close-up - even just a twitch of an eye.
"That won't hold on a stage this big - it's one of the biggest stages in the country. I don't do things by halves!"
She Stoops to Conquer, directed by Jamie Lloyd, is a comedy of mistaken identities involving Hardcastle (Steve Pemberton), a wealthy man who seeks to marry off his daughter Kate (Kelly).
"She's the heroine of the piece and she's very feisty," says Kelly. "She spins the events of the night to work in her favour, and for 1773 that was very forward-thinking of Oliver Goldsmith."
Kelly won the role in the "corsets and wigs" production several months after deciding to quit Coronation Street. It was, she points out, her first audition in five years.
But when did the Barnsley-born actress first catch the acting bug?
"My mum and dad's hobby was amateur dramatics," she explains. "One of my first memories is running up and down the theatre at Wakefield Opera House.
"Whenever there was a show like Calamity Jane, me and my siblings would be plonked on stage in a costume because it was easier to have us in it rather than sort out babysitters."
Kelly took on the role of Becky McDonald in Coronation Street in 2006. The character went on to become the 50th barmaid to serve at the Rovers Return.
When she exits the show on Monday night, it will be the climax to a storyline involving ex-husband Steve McDonald and Tracy Barlow.
In true soap style, there's a big showdown at Steve and Tracy's wedding.
Kelly reveals that the "Becky" necklace she's worn throughout the show is one of her keepsakes.
"I bought it in the first place," she laughs. "When I went back as a regular after the first three months, I thought 'let's get some bling on the scene' - so I bought this 'Becky' necklace from the Arndale Centre and four sovereign rings from Argos.
"Those are the five things that I've taken away and I've got them in a little box on my dressing table at home."
Does the actress envisage Becky ever returning to the Street? "At Corrie they rarely kill people off. I know that sounds ridiculous after the [50th anniversary] tram crash.
"But I'm really pleased they have left the door open for me because I would have been devastated if she'd died.
"I had such a blissful five years there that I would hate to think that had to be it."
She Stoops to Conquer begins at the National Theatre on 24 January and will be broadcast to cinemas across the UK and around the world on 29 March as part of National Theatre Live. Becky McDonald exits Coronation Street on Monday, 23 January on ITV1.