Leo Fitzmaurice wins Northern Art Prize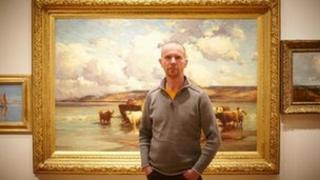 Artist Leo Fitzmaurice, who creates new art out of old objects, from cigarette packets to 19th Century landscape paintings, has won a £16,500 award.
The Wirral-based Fitzmaurice was named the winner of the fifth annual Northern Art Prize at Leeds Art Gallery.
For his winning exhibition, he has hung 13 existing landscape pictures so their horizons meet up to make one long line.
Last year's winner Haroon Mirza went on to win a prestigious award at the Venice Biennale.
Sheffield-based Mirza picked up the Silver Lion for best young artist at the event in June.
Fitzmaurice, 48, has previously exhibited 800 discarded cigarette packets that he adapted to look like miniature football shirts.
Speaking after his win, he said almost all of his work was made using items that already exist.
"I think we've already got enough stuff," he said. "Let's review what we've got rather than making anything new."
His contribution to the nominees' exhibition at Leeds Art Gallery includes a slideshow of photos of patterns found in everyday objects, from paving stones to wheelie bins and litter.
The photos were taken on his camera phone over the past seven years.
He also arranged the 13 traditional landscape paintings from the city's art collection in a line along one wall to create a long horizontal scene.
He said: "You do imagine yourself in the paintings. So when you feel like you could walk around the back of the frame into the next painting, it is starting to do something very interesting."
Each painting tells its own story, so the new arrangement creates a new story as the images are followed from one end to the other, he said.
"It's almost like you're popping in and out of all these different lives," he added.
This year's judges were Caroline Douglas, head of the Arts Council Collection; broadcaster Tim Marlow; Turner Prize winner Simon Starling; Simon Wallis, director at The Hepworth Wakefield gallery; and Leeds Art Gallery curator Sarah Brown.
They described Fitzmaurice's work as "ambitious, risky and compelling".
The other shortlisted artists were Liadin Cooke, James Hugonin and Richard Rigg.