Bee Gee Robin Gibb to make classical debut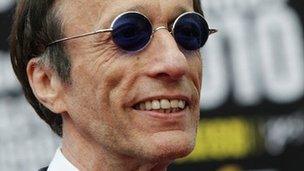 Bee Gees star Robin Gibb is to make his classical debut with an album about the sinking of the Titanic.
He has collaborated with his son, RJ, on The Titanic Requiem to commemorate the 100th anniversary of the disaster.
The 62-year-old, who has been undergoing chemotherapy for liver cancer, said recording the album helped him "on the road to recovery".
He will lead a concert performance of the album on 10 April, exactly 100 years after the Titanic set sail.
It sank off the coast of Newfoundland five days later, with the loss of more than 1,500 lives.
Gibb's requiem is played by the Royal Philharmonic Orchestra and features the RSVP Voices Choir, in addition to vocals from tenor Mario Frangoulis and British choirgirl Isabel Suckling.
One of the pieces, Don't Cry Alone, also features Gibb's first studio performance since last year's charity single I've Gotta Get A Message To You.
Referring to the singer's ill health, his spokesman, Mick Garbutt, said: "Robin is responding well to treatment and we are very upbeat about his recovery.
"As always chemotherapy has taken its toll, but Robin feels good."
The Bee Gees - formed by Gibb and his brothers Maurice and Barry - are one of the most successful bands in pop history, with hits like Massachusetts and Night Fever. They also wrote dozens of songs for other artists, including Islands In The Stream and Chain Reaction.
Robin Gibb has also released several solo records, although only 2003's Magnet charted in the UK.
The Bee Gees disbanded after Maurice Gibb's death in 2003, which was caused by complications from a twisted intestine.
Robin Gibb - who is Maurice's twin - has had surgery for a similar problem, and was in hospital last year, reportedly with an inflamed colon.
The requiem is not the star's first collaboration with his son RJ (Robin-John).
The duo recorded a song for independent vampire film Blood Type - The Search in 2009, in which RJ also had an acting role.
"It has been an incredible experience working with my son," said Gibb in a statement.
"Here is a creative freedom and uninhibited state that comes from working with a family member."
Related Internet Links
The BBC is not responsible for the content of external sites.