Lewd word causes Countdown blushes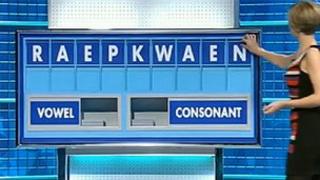 A contestant on Countdown has scored six points with a lewd word, which Channel 4 had to bleep out.
Mark Murphy, an IT consultant from Edinburgh, formed the word - a synonym for masturbator - from the letters R, A, E, P, K, W, A, E, N.
Although he was censored when he uttered the word on Wednesday's show, it was permitted under official rules.
"That's absolutely fine," said adjudicator Susie Dent. "It's in the dictionary, so we must allow it."
Mr Murphy's opponent Nick Evans thought he had created a longer word from the given letters - suggesting "weakener" - but was found to be short of a necessary third "e".
Celebrity guest John Suchet beat both contestants, creating the word "reawaken".
Mr Murphy went on to win Wednesday's contest, by 98 points to 34.
Viewing figures
It is not the first time the word has appeared on the Countdown board - having cropped up in plural form in 2008, when it was also bleeped out.
An earlier series of the show disallowed the word, although the outtake has since appeared on several TV clip shows.
Other risque words to appear on Countdown through the years include fart, bastards and erection.
The show's latest presenter is Nick Hewer, better known as Lord Sugar's assistant in The Apprentice.
His debut last week attracted 938,700 viewers - much higher than the series' usual audience.
Ratings have since settled to an average of about 829,000 - an improvement on former presenter Jeff Stelling's final episodes, which were seen by an average of 761,600 viewers.