Irvine Welsh movie gets UK premiere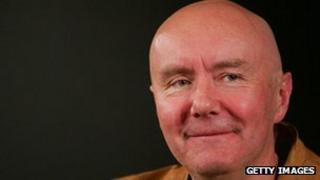 The film adaptation of Scottish author Irvine Welsh's book Ecstasy is to have its British premiere at the Glasgow Film Festival in February.
The film is based on the short story The Undefeated, one of three tales featured in the best-selling book.
Starring Lord of the Rings' Billy Boyd, it is one of 239 films to be shown at the 10-day event.
Other highlights include The Decoy Bride starring David Tennant, and Emily Blunt's Your Sister's Sister.
The latter, which will open the festival, is directed by Lynn Shelton. Shelton was recently named as one of the top 10 directors to watch this year, in a poll by trade newspaper Variety.
Her work, including indie film Humpday, has been compared to Woody Allen and Eric Rohmer.
Le Havre, by Finnish filmmaker Aki Kaurismäki - which won the prestigious Prix Louis Delluc award in France - will close the festival which ends in 26 February.
"I think the superb quality and international credentials of the opening and closing galas reflect the very special programme of films and events that we have put together for the 2012 Festival," said the event's co-director Allison Gardner.
Acclaimed US independent drama In the Family, period drama Bel Ami - starring Robert Pattinson - and documentary Better this World also feature in this year's programme, which Ms Gardner called "a rich and diverse selection" of movies.