Beyonce birth interview 'fake' says press officer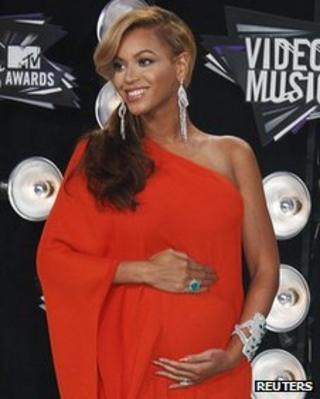 An article billed as pop star Beyonce's "first interview" since giving birth last week has been called a "fake" by the singer's representative.
Published in the UK's Star Magazine on Tuesday, the article is billed on the front cover as a "world exclusive".
Inside, the star divulges information about the birth and says her husband, rapper Jay-Z, will be a "hands-on dad".
Her spokeswoman said the interview was "completely made up". Star Magazine's editor has denied the claim.
"It is not made up or fictitious at all," Anna Pointer said.
"We bought the interview from a reporter in the US, who conducted the interview with Beyonce before the birth.
"The reporter then obtained the 'top-up' info after the birth, which we believe to have been signed off by a girl on her LSM team," she told US TV show Access Hollywood.
The article in Star Magazine does not refer to the interview having taken place in stages, while a promotional article on the publication's website calls it "Beyonce's first interview since the birth of her daughter".
Quotes attributed to the pop star appear to address the issue of heavy security at the hospital where she gave birth to Blue Ivy Carter on 14 January.
"Security was very tight, but not just for the sake of it, it was for the security of our daughter," she says. "As usual certain things have been exaggerated but that seemed to be the story of my pregnancy."
Asked whether the interview was legitimate, Beyonce's spokesperson said "absolutely not".
The claim comes on the day that several celebrity magazine editors appeared before the Leveson inquiry into press standards.
Several questions dealt with the issue of misleading headlines on front covers.
Rosie Nixon, co-editor of Hello! magazine, was asked about an interview with JK Rowling that had been branded "rare and exclusive".
She said that the quotes had come from a question and answer session with a group of children arranged by Comic Relief, and admitted that the headline was "clearly misleading".
Nixon added that the mistake had never been repeated.
Star Magazine is one of the UK's leading weekly celebrity and lifestyle magazines with a circulation of 402,589, according to ABC figures published last August.
That puts it ahead of Heat (312,063) and Hello! (296,318) but behind OK! Magazine (457,522) and Closer (452,243).
Calls placed to Star Magazine by the BBC for this story had not been returned at the time of publication.