Johnny Ramone's autobiography finally ready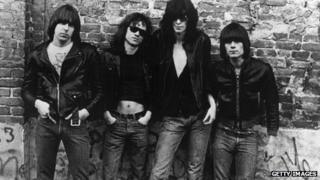 The autobiography of punk guitarist Johnny Ramone is finally being published, eight years after his death.
Commando was written after the musician's diagnosis with pancreatic cancer. His widow, Linda, described it as "his last word".
"It is a really powerful book," she added. "He knows [his life] is going to come to an end, and he really needs to tell everybody what he's feeling."
The book tells of The Ramones' struggle for acceptance and money in the 1970s.
Punk pioneers
Born John Cummings in New York in 1948, Johnny Ramone gave up his job as a construction worker to play guitar for the band, which formed in 1974.
Along with founder members Tommy (Tommy Erdelyi), Joey (Jeffrey Hyman) and Dee Dee (Douglas Colvin), they became the first punk band to sign with a major record label.
All of the group's members adopted the surname "Ramone" and dressed in torn blue jeans and leather jackets, as a tribute to 1950s rock stars.
Their two-minute, three chord approach to rock made them pioneers of the punk movement, cited as an influence bands including the Sex Pistols and Green Day.
Even Bruce Springsteen was inspired by the band, writing Hungry Heart for them after watching a concert in New Jersey. His manager later convinced him to keep the song for himself.
The Ramones' hits included Sheena Is A Punk Rocker and Baby I Love You, and they were inducted into the Rock and Roll Hall of Fame in 2002.
Johnny Ramone's account of the band covers 176 pages, with dozens of pictures selected by his wife.
It also features personal stories, including his altercation with Malcolm McLaren and his romance with Linda, who had previously dated Joey Ramone, the band's frontman.
"It's whatever people make out of it. I guess it was some sort of love triangle - Joey, Johnny and me," she told the Associated Press news agency.
"It happened, and of course he talks about it and he talks about how he feels about it," she added. "The three of us all probably have a different story, but this is Johnny's story."
She said several factors were responsible for the delay in the book's release, including legal wrangles involving the band after Ramone died.
It is not known whether contributions from Washington Post reporter Steve Miller, who had been collaborating with Ramone at the time of his death, will be included in the final book.
Linda Ramone said the autobiography - which she hopes will be turned into a film - consisted entirely of her husband's words.
"It didn't make Johnny Ramone's book more powerful by having other people in the book talking about him," she said. "This is nobody else's story."
The book, with a foreword by bandmate Tommy Ramone and an epilogue by close friend Lisa Marie Presley, is set for release by Abrams Image in April.