Ricky Gervais to step down as Golden Globes host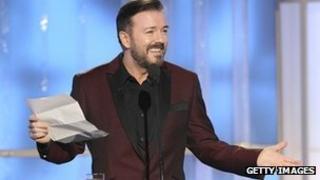 Comedian Ricky Gervais says he will not return as host of the Golden Globes ceremony in 2013.
The British star has spent three years ruffling feathers in Hollywood by making barbs about some of its stars.
Writing on his website, Gervais said: "I've told my agent to never let me be persuaded to do it again".
Viewing figures for this year's show dipped slightly, with many observers noting that Gervais' jokes seemed less caustic than in previous years.
But he still managed a few eye-raising quips, introducing The King's Speech star Colin Firth by saying: "What you don't know about Colin Firth is he's very racist. I've also seen him punch a little blind kitten."
In 2011, many critics felt Gervais would not be allowed to return to the Globes, saying he had "crossed lines of taste and civility".
The comedian introduced Robert Downey Jr by saying his most familiar roles were at the Betty Ford clinic and the LA County Jail.
He also poked fun at the movie I Love You Philip Morris, noting that stars Jim Carrey and Ewan McGregor portrayed "two heterosexual actors pretending to be gay... so the complete opposite of some famous Scientologists, then."
After a collective intake of breath from the audience, Gervais said: "Probably. My lawyers helped me with the wording of that joke."
'Subdued'
During the run-up to this year's event, organisers of the Golden Globes ran an advertising campaign suggesting the comedian would go further this year.
In the end, reviews suggested his performance was "subdued" and "a let-down."
Nonetheless, the show was the most-watched programme in the US on Sunday night. A total of 16.8 million people watched the ceremony, down slightly from the 17 million who tuned in last year.
Writing on his blog, Gervais said the 2012 ceremony had been his favourite so far.
"The crowd were great this year," he said. "I think they finally worked out that my gags only seemed rude and nasty but were actually not too scary at all.
"Or they were just drunker."
Appearing on the David Letterman chat show on Tuesday, Gervais confirmed his intention to step down from the ceremony.
Asked if he was "done hosting the Golden Globes", Gervais replied: "I think so, for now."
"I did it the first time because... it's a huge global audience for a comedian and I like writing gags.
"I did it a second time because I thought I could improve on the first.
"And I wasn't going to do it a third, but a lot of people were saying 'he'll never be invited back', so I did it to annoy them."