Sundance film festival to attract cream of Hollywood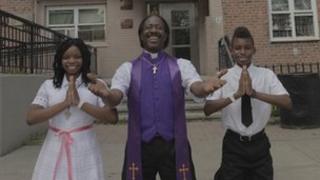 Big names from the world of cinema are arriving at the winter ski-resort of Park City in Utah, as this year's Sundance Film Festival gets under way.
The star quotient at the festival is high. Bruce Willis, Sean Penn, Catherine Zeta-Jones, Kirsten Dunst, Rebecca Hall, Susan Sarandon, Robert De Niro, Spike Lee and Liv Tyler all have films at the annual event.
Hollywood names might be present but the aim of the festival, co-founded by screen icon Robert Redford, is to showcase low-budget independent cinema, as opposed to expensive studio pictures targeting a mass market.
Sundance organisers consider themselves on a mission. Festival director John Cooper says: "I really feel like I'm in service to the independent film community. In America there's not a lot of support for the arts, so that becomes what I'm in service to as well."
One of the festival's more eagerly-awaited films is Spike Lee's drama Red Hook Summer. The picture is being kept under wraps, but it's been reported that the New York-based director returns to his roots with an urban tale of a young boy from Atlanta spending the summer with his grandfather in Brooklyn.
Other films generating interest include the Wall Street drama Arbitrage, starring Richard Gere and Susan Sarandon, as well as paranormal thriller Red Lights, with Sigourney Weaver and Robert De Niro heading the cast.
The festival also has its share of heavyweight documentaries.
The Invisible War looks at rape and its cover up within America's armed forces.
Filmmaker Peter Jackson has co-produced West of Memphis, the story of three men from Arkansas who were found guilty in 1994 of the murder of three boys. The men have many supporters who believe they were wrongfully convicted.
All told, some 117 feature-length films will screen at Sundance and some common themes have been detected. Programming director Trevor Groth says: "One is the number of comedies - this year that number is at probably an all-time high. The other is the number of women on screen, strong, bold female protagonists."
One Sundance picture that fits that bill is Bachelorette, starring Kirsten Dunst. It's a foul-mouthed female ensemble comedy in the same vein as the recent box office hit Bridesmaids.
Another notable female role belongs to British actress Rebecca Hall in Lay The Favourite, which also stars Bruce Willis and Catherine Zeta-Jones. It's the story of a stripper turned Las Vegas gambling assistant directed by Britain's Stephen Frears.
'Beautiful shock'
Other films with a British connection at Sundance include the Irish terrorism thriller Shadow Dancer starring Andrea Riseborough, Clive Owen and Gillian Anderson, and directed by Sundance veteran James Marsh.
The only British narrative film in competition is My Brother the Devil.
London-based actor James Floyd, who has a leading role, said: "It's basically a love story about two British-Egyptian brothers living on arguably the toughest council estate in the whole of the UK - and it's about the very complex relationship they have with each other."
Floyd, 26, is very excited that the film got selected.
"To be in competition at one of the biggest film festivals in the world was an incredible, beautiful shock," he says.
The picture is the first feature from Egyptian-Welsh director Sally El Hosaini.
Her film is set on what she describes as the mean streets of Hackney in London, and features teenagers who rule the streets in a brutal world. Its arrival at Sundance marks the end of a five-year endeavour on her part.
"I'm interested to see how audiences are going to react finally, because it's hot off the press, so very few people have seen it," she says.
Sundance has been a launching pad for numerous careers.
Directors Steven Soderbergh, Quentin Tarantino and Darren Aronofsky all got their first taste of recognition at Sundance.
Many independent filmmakers view Sundance with gratitude. JC Chandor directed the current low-budget hit Margin Call, a thriller set in the world of high finance, which premiered at the festival last year.
Brisk business
"I always only wanted to go to Sundance when I had a film to show - and I went - and we sold our film to caring, caring people who have done a great job with it," he says.
British actor Jeremy Irons. who has a starring role in Margin Call, has a film at the festival again this year. He's a big fan of Sundance and the support it offers.
"I think it's terribly important because independent film is struggling. Movies that aren't 3D, that aren't huge, that aren't going to get repeat admissions from young audiences, are very hard to finance at the moment," he says.
But recently increased revenues from video-on-demand and online streaming services have brought new funds to independent cinema.
Given the more favourable market conditions, insiders are expecting some reassuringly brisk business at Sundance this year, resulting in a healthy share of films leaving the festival with distribution deals intact.