Dickens book sales boosted by television adaptations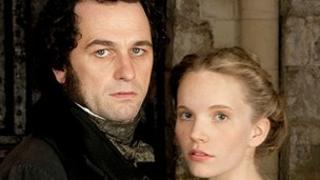 Sales of Charles Dickens books have been bolstered by a slew of TV adaptations, figures have revealed.
In the run-up to BBC One's new version of Great Expectations, weekly sales of Dickens' back catalogue rose from around 7,000 to more than 16,800.
The novel alone sold 6,396 copies after the Christmas period broadcast - an increase of 2,000 on the previous week.
Nielsen BookScan analyst David Walter said "extra attention" created by TV adaptations had prompted a sales surge.
He added that a new edition of Great Expectations featuring images from the TV drama had also helped to give the novel a "second life".
The paperback version of Great Expectations featured Douglas Booth, who played Pip, and Gillian Anderson in the guise of Miss Havisham on the cover.
Another Dickens novel which has been turned into a TV drama is also enjoying a sales lift.
The Mystery of Edwin Drood, the author's final and unfinished work, sold 666 copies in the week beginning 7 January.
The previous week, it had shifted 199 copies, while in one week last year it sold just 10 copies.
Sherlock upturn
Tuesday's new book charts, which will cover the period in which the BBC Two drama was broadcast, are expected to show another sales rise for the novel.
While the published version remains without an ending, the TV adaptation featured a conclusion created by screenwriter Gwyneth Hughes.
A new paperback edition of the novel tied into the TV drama was published on 5 January.
Other retailers, including Amazon and Waterstones, have also reported an uplift in sales of Dickens literature.
Melanie Harris of Waterstones said: "A lot of readers watched Great Expectations and realised that they have never read the book.
"We have definitely seen a resurgence of interest in Dickens and a number of new editions of his classic tales are now on the shelves."
As Dickens' novels are all out of copyright, they are largely available for free on e-Readers such as the Amazon Kindle, Sony Reader and Kobo eBook Reader.
However, no sales figures are currently available for these electronic editions.
Sales of Sherlock Holmes books by Arthur Conan Doyle have also experienced an upturn due to the BBC drama starring Benedict Cumberbatch, and the latest film which was released just before Christmas.
For much of 2011, less than 2,000 copies sold each week, which had doubled by the first week of January after the beginning of the second series.
A peak of 6,844 copies sold in the week before Christmas, shortly after the movie version's UK release.