Golden Globes: Ricky Gervais 'subdued', say critics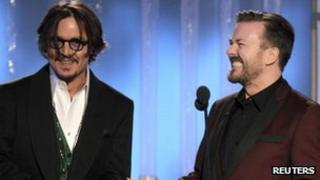 A "respectful and restrained" Ricky Gervais lacked the bite of last year as the host of a lacklustre Golden Globes ceremony, reviewers have concluded.
The Los Angeles Times said he was "surprisingly subdued". The Hollywood Reporter said it was "such a let down".
Variety said the show was "virtually lifeless" with acceptance speeches that "droned on without a hint of spontaneity or magic".
In 2011, Gervais shocked with quips about stars including Robert Downey Jr.
It led the Hollywood A-lister to comment on the jokes being "mean-spirited and mildly sinister".
Black and white silent movie The Artist won three gongs at the Los Angeles awards while The Descendants was named best film drama and its star George Clooney won a best actor prize.
Best actress prizes went to Michelle Williams for My Week with Marilyn, and Meryl Streep for The Iron Lady.
The announcement in November that Gervais would present the Globes for a third year running was greeted with surprise after a series of caustic put-downs at the expense of gathered stars and organisers, the Hollywood Foreign Press Association (HFPA) in 2011.
In the run-up to this year's event, the HFPA ran an advertising campaign suggesting the British comedian may go further this year.
Variety said that, "he reserved his harshest barbs for NBC and the Hollywood Foreign Press Association".
He "danced up to the line with jokes about Justin Bieber and the Jodie Foster-directed The Beaver" but "there was little to make the room or censors blanch".
Gervais' most memorable moments included a reference to actor Colin Firth as "very racist", joking he had "seen him punch a little blind kitten".
He also said the Globes were to the more serious Oscars what US reality TV star Kim Kardashian was to Kate Middleton - "a bit louder, a bit trashier, a bit drunker and more easily bought, allegedly".
The Hollywood Reporter said that, because Gervais had "pulled no punches last year and ruffled a lot of egos", there was an expectation this year's ceremony would be "a bloodbath of scorching wit and meanness, with no sainted star deemed untouchable".
Because the predicted "apocalypse" did not appear, "it seemed like such a letdown," it added.
"And yet, if the ceremony itself had any kind of sparkle or snap to it - which it did not - a tame Gervais wouldn't be such a big story."
That was partly because the list of winners, "did not give us the drama we've seen in previous years," blogger Perez Hilton said.
In the UK press, The Guardian noted "it was left to the winners to provide some of the night's more risque moments", including Meryl Streep, who swore in her acceptance speech.
Empire Online, meanwhile, said "at least Ricky seems like he's trying once in a while".
"The rest of the show was largely a rote run-through of awkward banter, long thank you lists, expected wins and one or two ridiculous snubs/surprise victories - much like any other year."
As the Los Angeles Times noted, Britons fared best in the night's television awards.
The paper reported on success for Downton Abbey as best TV mini-series and Kate Winslet for lead actress in a TV mini-series or movie, for Mildred Pierce.
It then added: "When Idris Elba took to the stage to accept the award for lead actor in a miniseries for Luther, one did begin to wonder how many Brits it takes to screw in a Golden Globe."
The same was not true in film categories when compared with last year when Colin Firth won best actor in a drama for The King's Speech - a precursor to his Oscar success.