Golden Globes: Ricky Gervais's best quips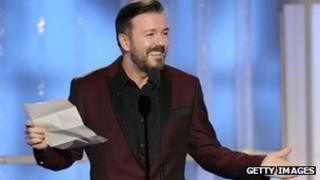 Eyebrows were raised when Britain's Ricky Gervais was invited back to host this year's Golden Globe awards.
The co-creator of The Office and Extras was criticised in some quarters for his acerbic quips at last year's ceremony.
Yet the 50-year-old was in more generous mood on Sunday night, which saw him poke fun at the great and good without drawing blood.
Here is a selection of his more memorable remarks.
"Tonight you get Britain's biggest comedian, hosting the world's second biggest awards show on America's third biggest network [NBC]. Sorry, is it fourth? it's fourth."
"For any of you who don't know, the Golden Globes are just like the Oscars, but without all that esteem."
"The Globes are to the Oscars what Kim Kardashian is to Kate Middleton. A bit louder, a bit trashier, a bit drunker and more easily bought. Allegedly."
"Who needs the Oscars? Not me and not Eddie Murphy [original host of next month's Academy Awards]. When the man who said yes to Norbit says no to you, you know you're in trouble."
[On Boardwalk Empire] "It's about a load of immigrants who came to America about a hundred years ago, and they got involved in bribery and corruption and worked their way up into high society. But enough about the Hollywood Foreign Press.''
[To winners] "You don't need to thank everyone you've ever met or members of your family, who have done nothing. Just the main two - your agent and God."
"Our next presenter is the queen of pop - not you Elton, sit down. Please welcome Madonna."
[On Antonio Banderas and Salma Hayek] "They're ridiculously gorgeous specimens, they're extremely talented and probably very interesting. I'm not sure - I couldn't understand a [expletive] word they said."
"What you don't know about Colin Firth is he's very racist. I've also seen him punch a little blind kitten."