Gypsy Wedding was Channel 4's most watched show in 2011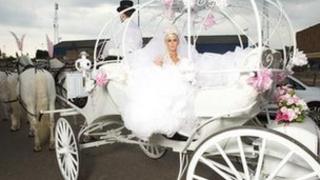 Channel 4's top three most watched programmes of last year were all part of the My Fat Gypsy Wedding brand, the network has announced.
According to consolidated audience figures the, most watched episode, which was broadcast in February, attracted 9.71m people.
The Christmas special was seen by 7.24m viewers, while 5.32m people tuned in for a Royal wedding episode in April.
Embarrassing Bodies was the fourth most watched show, followed by Shameless.
My Big Fat Gypsy Wedding, which follows young Irish travellers as they prepare for their traditionally extravagant weddings, has been a big hit for Channel 4.
First broadcast in 2010 as a one-off documentary, the show attracted a lot of attention mainly because viewers were amazed by the outrageous wedding plans set out by the gypsy brides.
The documentary also gave viewers an insight into the travelling community and how different their courting system was to the more typical way people date today.
Some have accused the show of voyeurism and making fun of its subjects, a charge which the programme-makers deny.
Embarrassing Bodies, which sees people seek medical treatment on TV for less-talked about ailments, attracted 4.85m people to earn its fourth place position.
Another episode of the medical documentary series appeared at number 10, with 3.85m tuning in to watch.
Shameless, which is currently on its ninth series, was the only drama in the top 10.
The show, is set on the fictional Chatsworth council estate, had 4.49m viewers for an edition in January.
The Big Fat Quiz Of The Year took sixth place with 4.35m and a September episode of Grand Designs was at number seven with an audience of 4.15m.
In eighth place was a one off Cutting Edge documentary, which followed the life of one man who was struggling to live comfortably because of his obsessive hoarding.
A total of 4.03m people watched Obsessive Compulsive Hoarder, which was broadcast in December.
At number nine was award-winning documentary series One Born Every Minute, which features selected footage filmed filmed on a hospital maternity ward.
The June episode attracted 3.88m people.
Glee, Misfits and Hollyoaks were the top three most popular programmes across Channel 4's digital channels, include E4 and Channel 4 +1.