Ashton Kutcher hopes Two and a Half Men will return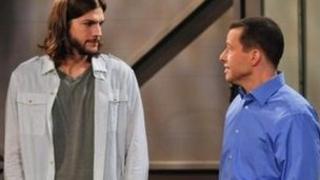 Two and a Half Men star Ashton Kutcher - brought in to replace a troubled Charlie Sheen - says he wants to film another series of the hit US sitcom.
The ninth season of the comedy, which has attracted 20% more viewers than Sheen's final run, returns in the US on Monday after a mid-season break.
Kutcher told a press conference that his upcoming movie roles were only "a hiatus" between seasons of the comedy.
The actor plays heartbroken internet billionaire Walden Schmidt in the show.
His debut in September attracted 28.7 million viewers, the show's highest-ever audience.
Kutcher, who signed a one-season contract, said: "The deal that we structured for the show was kind of a test deal: Can we get the show up? Can we get it going?
"The show's outperforming the numbers from before I was here and so I think that people responded to it.
"For me, having a show that people like and people want more of, that will dictate my decision."
CBS entertainment president Nina Tassler said that, "in spirit and intent, everybody is very motivated" to produce another series.
The opening show of season nine began with the funeral of Sheen's character, Charlie Harper, after he was killed by a metro train in Paris.
Viewers watched as Schmidt bought Harper's house after trying to take his own life.
Sheen was sacked from the show in March after criticising its producers and months of reported drug use.
Series creator Chuck Lorre admitted that, after Sheen's exit, he had considered cancelling the sitcom.
"It seemed like such a heartbreaking way to end and we didn't want it to, so we said let's keep the light on,'' said Lorre, the target of sharp criticism from Sheen after his sacking.
It had been "a lot of fun and a challenge to create a different show with a lot of the same elements", he added.