Connie Fisher returns after vocal scare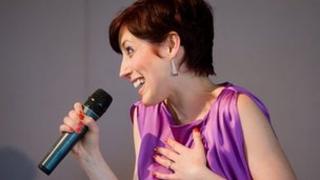 Actress Connie Fisher has sung in public for the first time in a year and described how she had to learn to sing again after surgery on her vocal cords.
Voice problems left the star unable to hit high notes and forced her to pull out of The Sound of Music tour in 2011.
"I was told I would never sing again. I was heartbroken for ages," Fisher said.
But she returned to perform at a launch event for the Leonard Bernstein musical Wonderful Town, which opens at The Lowry in Salford in March.
Her role in the show that requires a lower vocal range than the one in The Sound of Music.
Fisher, who found fame on the TV talent show How Do You Solve a Problem Like Maria?, said singing in front of an audience at the launch event felt "natural, and frustrating because I would love to reach high the notes that I used to hit".
"Life throws you a curve ball," she added. "It's like being in a car crash and losing your legs and you still want to run.
"Where there's a will there's a way - you see all these Paralympians and I feel a little bit like that. I've got my boundaries now and I know them, and this part fits it."
'Very difficult'
Fisher's problems arose when she discovered she was born with a condition called sulcus vocalis, which she describes as being holes in her vocal cords
More accurately, the condition results in a groove on the leading edge of the two vocal cords, effectively creating two vibrating edges where there should be one. This can lead to the generation of two sounds or tones when a singer performs.
Fisher says the condition has been fixed on one side but not the other, after she received treatment from the same US surgeon who is helping pop star Adele.
"I still have that singing foundation and training but I have to rethink how I sing," she said. "Every time I open my mouth I have to re-evaluate how I'm going to position the note, so it's been very difficult."
Wonderful Town, set in New York, was first staged in 1953. The new production is a collaboration between three of Manchester's creative powerhouses - the Lowry, the Royal Exchange theatre and the Halle Orchestra.
It will be at The Lowry for three weeks before a UK tour. Producers hope to eventually take it to the West End.
Fisher is taking the role of Ruth, which was played in the last major UK production by Maureen Lipman in 1986.