BBC Radio 3 to premiere unheard Brahms work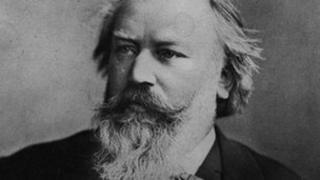 A recently discovered piano work by the composer Johannes Brahms is to be given its world premiere by Radio 3, more than 160 years after it was written.
The composition, which lasts a mere two minutes, was discovered by the British conductor Christopher Hogwood when he was researching manuscripts in the US.
It is believed the piece, entitled Albumblatt, was penned by Brahms in 1853, when he was 20 years old.
It will be broadcast on Tom Service's show Music Matters next month.
Hogwood will discuss his rare find on the programme, while Hungarian pianist Andras Schiff, who was asked to perform the piece, will also be interviewed.
The BBC said the piece of music features the same theme which appears in the trio section of the second movement of Brahms' Horn Trio op.40.
But Hogwood, who has edited a new edition of the Horn Trio, said the piano piece precedes it by 12 years.
Radio 3 controller Roger Wright said the station was "honoured to be the first to broadcast" the piece of music.
"Albumblatt is an incredible discovery which gives a fascinating insight into the workings of this great composer."
The programme will be broadcast on 21 January at 1215 GMT, after which a behind-the-scenes video of the recording will be available on the Radio 3 website.