Sir Peter Blake on his Brit design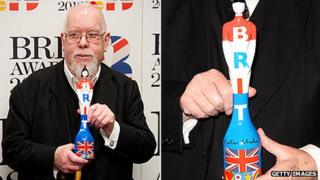 Veteran artist Sir Peter Blake was the man charged with updating the design of the 2012 Brit Award.
He is still perhaps best known for the design for the cover of The Beatles' 1967 album Sgt. Pepper's Lonely Hearts Club Band.
He discusses his thoughts on it and his long-time association with British music.
Sir Peter Blake's thoughts on his Brit design...
The actual shape was designed the year before so I had to work with it. Vivienne Westwood did it last year and used a Union Jack motif so the red, white and blue is like a section taken through the middle of the flag.
The motifs at the bottom are just things I was thinking about and then the print of BRIT in big letters just to show what it is, so it's simple and clear
I always find the initial idea is almost always the best, that's how I work, and the simpler, the better is often best. It's simple and, I hope, effective.
...on his long association with music and The Beatles...
Well I love music and I've had the chance to work with some of my favourite people and I still listen to a lot of music.
On Sgt. Pepper, I still have very mixed feelings, I'm still grumpy that I was paid so little for doing it. Although I don't worry about it anymore, whenever I'm asked, it reminds me that I'm still grumpy.
But it was great and exciting to have done it and since then. I've worked with a lot of good people.
...on his influence on young artists today...
Certain things are recurring and it's nice that there is that influence and certain images come up every so often and I feel that perhaps I have been a influence. But its not for me to say really is it?