The Maccabees go wild on third album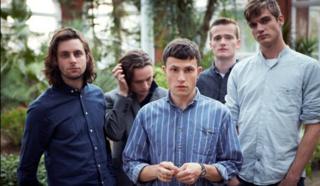 The Maccabees have been hailed as the saviours of British guitar music - but the band say they're not feeling the pressure.
It's Wednesday 11 January and The Maccabees should be celebrating. Two days after their third album, Given To The Wild, hit the shelves, early sales figures suggest it's on course for the top five - the best chart position of their career.
Instead, the quintet are locked away in their rehearsal studio in Elephant And Castle, fretting over their tour.
"We only have 10 days to get everything in order," confides guitarist Felix White.
"We've only ever played about half of the new songs live, so we're still working out exactly how it's going to be done."
By his own admission, this won't be an easy task. Given To The Wild is an ambitious, multi-textured album that was painstakingly pieced together over the course of 22 months.
Work began shortly after the Maccabees wrapped up the promotional campaign for their last album, Wall Of Arms, with two valedictory shows at the Brixton Academy.
But rather than sit in a cramped, windowless room trying to force out new ideas, the band went back to their homes and sketched out song fragments on their laptops.
"You can be watching TV with the guitar in your hand and inspiration will just happen," explains White.
"We'd send little loops to each other and see what stuck."
The finished tracks were constructed like mosaics - White describes the album as a "patchwork" of parts recorded in bedrooms, studios and stolen moments.
"We kept a lot of the happy accidents," he says, "so now it's like, 'Oh my God I don't know how to do that again!'"
Pushing daisies
The London-based band have come a long way from their debut, Colour It In, back in 2007.
That album contained an entire song about the wave machine at their local swimming pool. These days, lead singer Orlando Weeks has more adult concerns - getting older, watching his friends have children and mourning the loss of innocence.
On Go, he describes "skins we've known that no longer fit us" while Pelican finds him disconcerted by the passage of time: "Before you know it, pushing up the daisies."
The vocalist has said it "didn't feel appropriate" to write love songs after he'd turned 28.
"It feels like the tipping point when these major things start to happen," he told this month's Q Magazine. "It's less about someone you're in love with and more about celebrating family and friends."
Speaking to the BBC, White isn't keen to analyse his band-mate's lyrics.
"I tend not to ask him too much about it," he says. "He shouldn't have to run that stuff past me."
Indeed, the guitarist says he didn't read the lyrics until "we'd finished the album".
"It was the first time I'd really paid attention to them and I was like, 'They're good lyrics, man'. They're representative of the way we make music. We know it's something that's got to last."
That philosophy explains the band's continual struggle to improve as musicians.
On Given To The Wild, they chose to work with producer Tim Goldsworthy because it was felt his background with electronic acts like The Rapture and Unkle could add new textures to their music.
"He wasn't from our guitar-rock, indie world and he saw something in the music beyond what we'd done before, so that gave us confidence," White says.
"He's got an incredible amount of musical equipment and toys - synthesizers and pedals and drones.
"There was this thing called a drone commander which Hugo (the band's second guitarist) got obsessed with. He locked himself in his room for three days going 'nraoownnnggraooww', but that became the start of the record."
Careful planning
That quiet, hypnotic intro sets the stall for an album that White describes as "eccentric" and "experimental" compared to The Maccabees' earlier efforts.
Evolving and unfolding across 55 minutes, the record constantly surprises - spiky guitar riffs and polyrhythmic percussion suddenly spiralling songs into the stratosphere like fireworks.
The intricate arrangements have won the band favourable comparisons to art-rock contemporaries like Radiohead and Foals - although some have pointed out a lingering debt to their heroes, Arcade Fire.
Like the Canadian band, The Maccabees deliberately set out to make their third album a "proper record", developing musically across a notional Side A and Side B.
"That was a conscious idea and it took a lot of planning," White says.
"It's intentional that the record starts atmospherically and gains in tempo as it goes on.
"That's maybe one thing we learned from the last two records. We were always keen to put the immediate pop songs at the beginning, so the record caught people's attention, but that didn't necessarily give the fulfilling listening experience we wanted - where you can really get involved in the record from start to finish."
White says he's been reading reviews for the first time in his career, partly because he feels "confident we've achieved something" this time round.
The critical acclaim looks set to become commercial success - with the record making its chart debut at number four on Sunday - leaving White with one final ambition.
"When you're starting, you have to play the game," he says. "There are certain things you have to do. So in 2009, we played T4 On The Beach."
Sandwiched between the likes of The Saturdays, Taio Cruz and Peter Andre, it wasn't the most comfortable fit for a low-key indie band.
"It was a really bizarre day," White says. "Backstage, they have the entire cast of EastEnders and Hollyoaks, so you're walking around going, 'Do I actually know him, or is he Barry off EastEnders?'
"One of the things I hope this record will give us is that, if it does go well, we'll have the freedom to choose the things we do and don't do a bit more.
"And if Glastonbury's around next year, we can hopefully be around long enough to do that."
Just as long as they've worked out how to play the songs by then.
Given To The Wild is out now on Fiction.