Scathing literary reviews jostle for Hatchet prize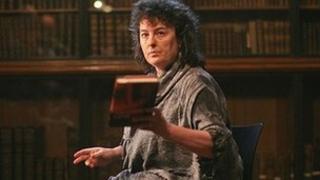 A new literary prize is to reward the "angriest, funniest, most trenchant" book review published last year.
The shortlist for The Hatchet Job of the Year Award includes a scathing critique of the Booker Prize-winning The Sense Of An Ending.
"It isn't terrible, it is just so... average," wrote Geoff Dyer of Julian Barnes' novel.
Also nominated is a review of Carol Ann Duffy's The Bees, which called the poet laureate's collection "very GCSE".
"You end the book thinking that if this is poetry, it's a trivial art. But it is not," wrote David Sexton in the Evening Standard.
'Surreal laziness'
The award has been launched by The Omnivore, a website which aggregates arts reviews.
Editor Anna Baddeley said the nominees had been selected for both their intelligence and their entertainment value.
"Some are fearless assaults on literary reputations, others raise important questions about the state of publishing," she said.
"All eight are artful demolitions that can be enjoyed equally by the expert and the general reader."
The shortlist also includes classicist and TV presenter Mary Beard, who described Robert Hughes' Rome as "little short of a disgrace - to both author and publisher".
"It is riddled with errors and misunderstandings that will mislead the innocent and infuriate the specialist," she wrote in the Guardian.
Other reviews picked up on the authors' technique. Writing in the Independent, Lachlan Mackinnon accused Geoffrey Hill of "wasting his time and trying to waste ours," with the complex syntax of his poetry collection Clavics.
Dissecting Michael Cunningham's By Nightfall, Adam Mars-Jones observed: "Nothing makes a novel seem more vulnerable, more naked, than an armour-plating of literary references.
"If you're constantly referring to landmarks, it doesn't make you look as if you're striding confidently forward - it makes you look lost."
A biography of Martin Amis, meanwhile, was criticised for "surreal laziness" and "surreal bossiness".
"It is also full of spectacularly bad writing - about spectacularly good writing," said Leo Robson of Richard Bradford's profile.
Critics also appeared to take issue with sexually explicit writing. Monique Roffey was pilloried for the "unedited sexual slurpings" of her memoir With the Kisses of His Mouth.
The winning critic will be announced on 7 February in London and will collect a year's supply of potted shrimp.