Placido Domingo and Simon Rattle win Israeli Wolf Prize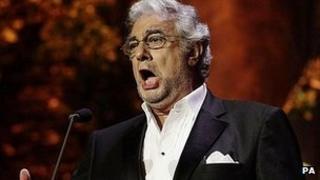 Spanish tenor Placido Domingo has become the first vocal artist to win Israel's prestigious Wolf Prize for the arts, organisers have announced.
Domingo shares the award with conductor Sir Simon Rattle for their contributions to music.
The 70-year-old classical singer performed with the Israeli Opera for three years in the 1960s.
As well as the arts, the prize is awarded in five other fields and each recipient receives $100,000 (£64,000).
Israeli physicist Jacob D Bekenstein won the physics prize and the other awards went to US based scientists, including A Paul Alivisatos, Charles M Lieber, Michael Aschbacher, Luis Caffarelli and Ronald M Evans.
Previous winners have gone on to receive Nobel Prizes.
The award will be handed out during a ceremony at the Knesset building - Israel's parliament - in Jerusalem later this year.
Last year German artist Rosemarie Trockel was presented with the arts prize for her contribution to painting.