War Horse stars square up to Spielberg movie's critics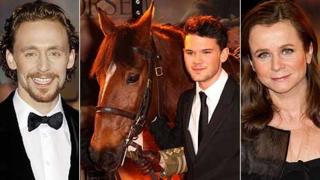 The British stars of War Horse agree with the critics that Steven Spielberg's new movie is sentimental - but "in the best possible way".
London's Leicester Square was caught on the hoof this week by the UK premiere of the director's latest film.
The Duke and Duchess of Cambridge were joined on the red carpet by Finder's Key, one of the highly trained beasts used to play 'hero horse' Joey.
The Duchess was reportedly moved to sniffles by the story of a fiesty Devon colt whose experiences on the Western Front touch many lives during World War I.
While the critics have generally been impressed by Spielberg's adaptation of the Michael Morpurgo novel, some have baulked at its heightened emotionalism.
"The thin line between sentimentality and schmaltz is all too often crossed," wrote Kaleem Aftab in The Independent.
The Guardian's Andrew Pulver agreed, accusing the film of "dewy-eyed affectation" and "toxic levels of sentimentality".
"Syrupy" and - yes - "sentimental" were two of the adjectives used by Colin Kennedy for Metro.
Speaking after Monday's premiere, the film's British stars were keen to refute any suggestion it is treacly or lachrymose.
"This is a film with an unashamed message of hope and redemption," said Emily Watson, who appears as a farmer's wife whose son Albert takes a shine to the titular steed.
"It's highly sentimental and unashamedly so. I think Steven has made an old-fashioned film in an old-fashioned way."
"The bravest aspect of this film is that Spielberg means every frame," said actor Tom Hiddleston, who becomes Joey's new owner - for a time - when he is sold to the army.
"Yes, it's directly emotional. But I hope it has a positive effect on people rather than a distancing one."
"It's old-fashioned film-making in the best possible way," nodded Jeremy Irvine, the 21-year-old newcomer cast as plucky farm boy Albert.
"It's epic and ambitious and only Spielberg with his pedigree could pull it off.
'Interesting marriage'
Shot in the UK in 2010, the largely home-grown ensemble in War Horse was swelled by the likes of David Thewlis, Peter Mullan and Sherlock's Benedict Cumberbatch.
Throw in screenwriters Lee Hall and Richard Curtis and the result, said Watson, is "a quintessential British movie".
The two-time Academy Award nominee says having an American at its helm is "an interesting marriage".
"I don't think there are many British film-makers who have the range, depth, breadth, skill [and] reach to do war like Steven does."
"The story lends itself to a classic epic sweep in the way that it's told," says Hiddleston, recently seen in Midnight in Paris and The Deep Blue Sea.
"The way this has been made is it looks like a war epic that might have been made at another time."
"This is a movie that has to appeal to all ages and the anti-war messages it deals with are strong and intense ones," chips in Irvine.
"It's a real return to the golden age of Hollywood, from probably the greatest director of our time."
Not long out of drama school when he landed the role, Irvine was understandably delighted to get his "lucky break".
But he is cautious when asked to comment on War Horse's Oscar chances.
"I've absolutely no experience [of awards]," he shrugs. "I'm flattered and thrilled but I hope this movie has a life beyond that."
"Who knows?" says Watson when asked if War Horse might end up with an award or two in its saddle bag. "You can never predict these things.
"But it'd be nice if it did," adds the actress, in contention for an accolade herself at the Golden Globes on Sunday night for her work in ITV1 drama Appropriate Adult.
War Horse opens in the UK on 13 January.