New York City Opera: 'Death knell' warning on lock-out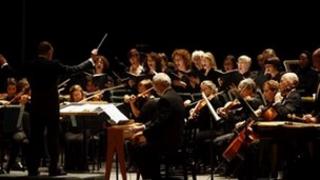 Unions representing musicians in the New York City Opera have warned that a lock-out of its members could be the "death knell" for the company.
The opera ordered a lock-out for the season's opening rehearsal on Monday, after weekend pay talks broke down.
It wants to remove salaries for the orchestra and chorus, instead paying for individual rehearsals and concerts.
Unions say that would turn performers into freelancers, earning a fraction of their previous income.
They predict that a continued lock-out would lead to the cancellation of the spring season, which is due to begin with La Traviata on 12 February at the Brooklyn Academy of Music.
The company's spokeswoman, Risa B Heller, told the New York Times the company had no plans to hire replacement musicians or to change the scheduled 16 performances of four operas in the city this season.
As well as Verdi's Traviata, the company will also perform Rufus Wainwright's Prima Donna, Mozart's Cosi Fan Tutte and Telemann's Orpheus.
A further four planned operas for the season were cut in July.
That followed May's announcement that, faced with a growing deficit, the company would be leaving the Lincoln Center for the Performing Arts - its base since 1966 - to perform at a series of different venues.
Good-faith effort
The American Federation of Musicians represents the orchestra while the American Guild of Musical Artists represent the chorus and singers.
Double bassist Gail Kruvand, leader of the players' negotiating committee, said the union had offered to play concerts for free while continuing to receive salaries for rehearsals.
Ms Kruvand told the Associated Press that members had "made a good-faith effort to say that, yes, we are willing to sacrifice for the sake of ensuring that the grand tradition of the city opera lives on".
She warned that the company's rejection of proposals could be "the death knell for one of New York's cultural treasures".
But the city opera's general manager and artistic director, George Steel, said in a statement that unions "refused to budge" despite offers of improved health insurance and severance pay amounting to "hundreds of thousands of dollars".
"City Opera had no other choice but to lock them out as the company cannot afford to pay for rehearsals when the unions have pledged to strike the performances."