Bob Holness: Your Blockbuster memories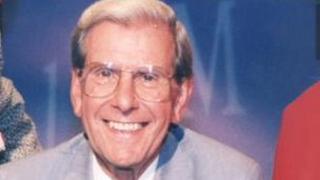 Former Blockbusters host Bob Holness has died at the age of 83.
The gameshow, which he hosted from 1983 to 1993, featured a hexagonal board, gold runs and the classic double entendre contestant request: "Can I have a P please, Bob?"
BBC News website readers have been sending in their memories of appearing on Blockbusters.
Amanda Brewerton, Kilnhurst
Bob Holness was genuinely interested in the teens on Blockbusters. I was a contestant, with a friend, on both Blockbusters and Champion Blockbusters in the 80s.
We did four gold runs and won £150 worth of fashion vouchers and a television that only very recently finally stopped working.
The gold run we didn't win was for a holiday to Rome.
He made the effort to chat to the contestants both on set and in the hospitality areas, making sure we were all having a good time as well as making good telly.
Rather than disappear off to his dressing room during breaks in filming he'd chat to the contestants and he'd be the one teaching everyone the hand jive.
About five years after I appeared I bumped into him and he remembered not only my name but that I was from Kent and what job I had done at the time of Champions. Impressive!
I suspect it had something to do with the Kent connection living in Kent as he did at the time!
My thoughts are with his family. Bob Holness was a real gentleman.
Dermot Finch, London
I was on Blockbusters in 1986. I was up against Oliver who was already well into his stride when we came on. We didn't stand a chance.
We were on for about 15 to 20 minutes, most of it on one show and then a few minutes on the second programme.
They used to film four programmes a day and we were kept in a holding area so there was a steady stream of contestants.
Bob used to come and mingle with you in the canteen.
I was 18 at the time and it was filmed in my last year at school.
Unfortunately for me it was screened the first week I started university.
I was a bit of a student icon for a week - it was half embarrassing but also half exciting because I'd been on Blockbusters!
I got about 10 questions wrong in a row, including
Bob: "What B were the King's suede shoes?"
Dermot: "Brown"
Bob: "What L is an acute virus fever of tropical Africa, especially Nigeria?"
Dermot: "Laryngitis?"
People thought that I was deliberately answering the questions incorrectly - but I wasn't!
Tim Coleman, Coventry
I was on Blockbusters when I was 17 and then Champion Blockbusters at 22.
I was one of a pair with a friend from school. He was the brainy one and we did quite well, thanks to his solid general knowledge.
We did four gold runs and won computers for our school and some windsurfing lessons. In the Champion Blockbuster everything went to charity.
I didn't get to ask for a P but I did get to say 'I'd like U please, Bob.'
It was a fantastic experience and Bob always took time to mingle with the contestants between shows in what was a genuine knockout competition.
He was very easygoing and really professional.
Looking back at the video I have still makes me chuckle and you could tell we were all there to have fun and not take it too seriously.
Bob was a great host and didn't seem to mind the cheeky comments we all made.
He'll be missed.
Interviews by Sally Taft