Bob Holness, former Blockbusters host, dies aged 83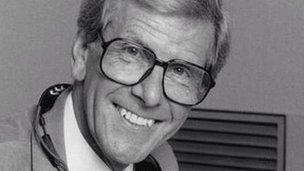 Bob Holness, former host of daytime quiz show Blockbusters, has died at 83.
In a statement, his family said he had "died peacefully in his sleep" early on Friday morning.
Holness, who had suffered a series of strokes, had been in a nursing home. He is survived by his wife Mary, three children and seven grandchildren.
Holness "was also an accomplished theatre actor and his radio broadcasting career spanned over six decades", the family statement added.
South African-born Holness joined the BBC in the 1960s and hosted Late Night Extra on Radio 1 and Radio 2, alongside presenters including Terry Wogan.
The show continued to air on Radio 2's AM frequency only until 1975, before Holness moved to commercial station LBC, co-hosting the morning show with Douglas Cameron.
Early in his broadcasting career, he also became the second actor to portray James Bond, starring in a radio adaptation of Moonraker in 1956.
In 2008, he told the BBC that the opportunity "just came up through a hole in the floor".
"I was doing lots of radio plays at the time but I wanted to do something a bit different, so when James Bond came up I ventured in and said yes."
He said he had never heard of the character but that it "became an amazing part to play and the response from listeners was terrific".
However he remains best known for hosting ITV gameshow Blockbusters, from 1983 to 1993, complete with its hexagonal board, gold runs and the classic double entendre contestant request: "Can I have a P please, Bob?"
"People say 'Don't you ever get fed up with it?' but I didn't," he once said.
"I loved everything to do with the show so it always got a very positive reception from me, however many times I heard it."
He continued to appear on the airwaves, hosting shows including a Tuesday night broadcast on Radio 2, presenting the BBC Radio Orchestra's selection of the best in popular music.
He also presented the BBC World Service request show Anything Goes - a show purported to be a favourite of Aung San Suu Kyi while under house arrest - bringing him a new legion of international fans.
From 1996 until 2002, he hosted the BBC's long-running panel game Call My Bluff on television.
But his health began to deteriorate in the 1990s after he suffered a mini-stroke; a more severe attack in 2002 led to temporary paralysis.
Those who have paid tribute to Holness include Radio 2 controller Bob Shennan who said he was "a talented and much-loved presenter who will be sadly missed".
BBC Radio 4 presenter Martha Kearney, meanwhile, said she had worked with him on the LBC AM Bob and Doug show and described him as a "real gent".