Coronation Street stars in dispute over pay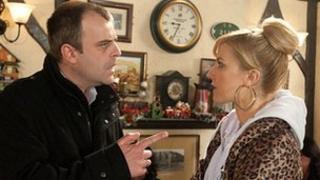 The cast of Coronation Street have become involved in a dispute with ITV over their pay, it has been reported.
Broadcast magazine said the actors face a pay decrease when Saturday's omnibus episode is moved to ITV2.
Moving to a digital channel means ITV does not have to pay the cast as high a premium for repeat fees.
Trade union Equity are representing the actors, but have declined to comment. An ITV spokeswoman said an agreement would be worked out.
In a statement ITV said: "We are in the process of talking to cast members whose pay may be affected by the ending of the omnibus repeat on ITV1, we expect to come to an arrangement in the next few weeks.
"In the meantime we have confirmed that we will continue with repeat fee payments."
According to reports, the actors are set to receive a small royalty payment instead.
That is thought to be less than the 37.5% of the episode fee they currently receive for the omnibus repeat.