US music sales up for first time since 2004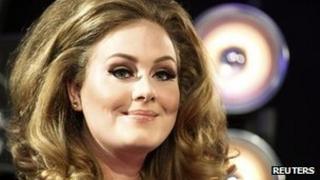 US music sales increased last year for the first time since 2004, figures from Nielsen Soundscan have revealed.
Album sales rose by 1.3% in 2011 - largely thanks to British star Adele, who shifted 5.8m copies of her award-winning second album, 21.
Michael Buble sold 2.4m copies of his Christmas album, while Lady Gaga's Born This Way was bought by 2.1m fans.
In total, 4.4m more albums were bought in 2011 than in 2010, with CD remaining the most popular format.
Only one in three albums were purchased digitally, figures show.
Eminem's Recovery was the best-selling album of 2010, with 3.42m copies sold.
Records by Lil Wayne, Jason Aldean and Mumford and Sons helped total music sales - including albums, singles, individual tracks and music videos - top the 1.6 billion mark for the first time.
That represents a rise of 6.9% year-on-year. Figures also show that there were 13 albums last year that sold more than a million copies, equalling the 2010 total.
The fourth best-selling album of last year was Lil Wayne's Tha Carter IV with 1.9 copies sold, followed by Jason Aldean's My Kinda Party at number five with sales topping 1.5m; Mumford and Sons sold 1.4m copies of their album, Sigh No More.
Drake, Justin Bieber, Jay Z and Kanye West's collaboration and Lady Antebellum completed the top 10 list of best-selling albums.
Sales shift
For the last few years, the top-selling records in the US have sold about 3.5m copies. You have to go back to 2004, when Usher sold 8m copies of his Confessions album, to find an artist who has beaten Adele's tally.
However, in the 1990s, the most popular albums rarely dropped below her 5.8m total. In 1999 and 2000, the Backstreet Boys and 'NSync managed to sell in excess of 9m copies of their albums.
The last British act to top the US end-of-year sales chart was the Spice Girls, whose debut album achieved the feat in 1997.
Adele's Rolling In The Deep was also 2010's best-selling song, and the most-played record on US radio, Nielsen said.
However, when it came to services like YouTube and Spotify, she was trounced by rapper Nicki Minaj, whose single Superbass was the most-watched video and most-streamed song of the year.
Rock group Radiohead topped the chart for vinyl sales, selling 64,000 albums in the format last year. However, the Beatles' Abbey Road was the best-selling individual LP on vinyl for the third consecutive year.
In the UK, album sales declined by 6% last year, despite a 24% increase in digital album downloads.
Again, Adele was the top-seller, with fans picking up 3.8m copies of her record.