James Franco sells debut novel to Amazon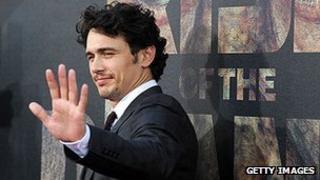 Actor James Franco has sold his first novel to Amazon Publishing, the online book retailer's in-house imprint.
Actors Anonymous will be published in 2013 and follows the 33-year-old's 2010 short story collection Palo Alto.
Described as "a hugely ambitious and wild ride", the book is one of Amazon's most high-profile acquisitions to date.
Franco was nominated for an Academy Award last year for his role in 127 Hours and was seen last summer in Rise of the Planet of the Apes.
Yet Palo Alto received mixed reviews, as did the actor's co-hosting of the 2011 Oscars ceremony last February.
An Amazon spokeswoman would not reveal how much the book deal was worth and whether Actors Anonymous would be published in e-book as well as print form.
"Like James himself this novel transcends categories," senior editor Ed Park told the New York Times.