Banksy inspires Polish art student's gallery stunt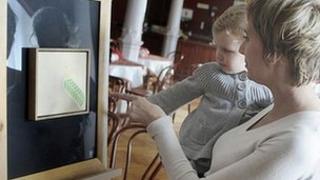 An unknown art student has boosted his profile after hanging one of his own works at the National Museum in Poland.
Andrzej Sobiepan said he was inspired by street artist Banksy, who pulled a similar stunt in 2005 at several galleries in New York.
Sobiepan told TV channel TVN24 that he could not "wait 30 or 40 years" for his work to be exhibited by a gallery.
The portrait was on display for three days before it was noticed and is now hung inside the museum's cafe.
Sobiepan said he hoped his stunt would encourage galleries to give more exhibition space to young artists.
"I decided that I will not wait 30 or 40 years for my works to appear at a place like this. I want to benefit from them in the here and now," he said.
Director of the museum in Wroclaw, Mariusz Hermansdorfer, admitted there had been several security breaches, but saw the funny side of it saying his action was a "witty artistic happening."
He added: "It has shown that the young generation of artists, unlike their predecessors, wants to see their works in museums."
The artwork, which is white and green, and partly uses swine leather to show a drooping acacia leaf, is to be auctioned off at a charity sale.