Martin Scorsese: What the Oscar winner did next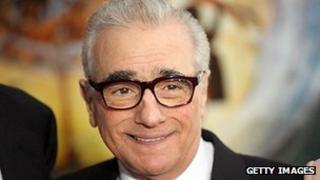 Film-maker Martin Scorsese will soon collect another honour to add to a long and distinguished career.
The 69-year-old director and producer has been honoured with Bafta's highest accolade, the Fellowship.
He will join a roll call of greats including Stanley Kubrick and Alfred Hitchcock.
But for many years the New Yorker may have felt that his craft would be denied one of the greatest accolades - an Academy Award for directing.
After five nominations but no Oscar statuette, Scorsese's patience was finally rewarded in 2007 for The Departed.
The director, whose previous work had included gritty features including Taxi Driver and Raging Bull, said that his east coast pedigree had made it tough to impress the Academy.
"I think a lot of it has to do with the nature of the community," he has explained.
"I've lived in Los Angeles but I'm more of a New Yorker, and the nature of my films is regarded as somewhat violent.
"Because of the movies I make, people get nervous because they think of me as difficult and angry."
Since the end of his Oscars drought, Scorsese seems to have gone from strength to strength, most recently breaking new ground artistically.
His most recent movie Hugo has seen the director embrace the challenge of 3D and create a film with family credentials - a far cry from the tense, taut nature of his earlier work.
Scorsese said his 12-year-old daughter Francesca was an inspiration to make the film, and added that he had become "comfortable" with working alongside children.
It is lining up for contention in the US film awards season and beyond, making a further appearance at the Academy Awards likely.
Scorsese has taken the possibilities of 3D and run with them, saying it brings the work of the actor into finer focus.
"Let's use 3D as part of the story. Let's embrace it," the director has said.
The film-maker has become involved in other screen pursuits since his Oscar triumph, including a foray into television.
He was behind prohibition-era drama Boardwalk Empire, which began in 2010 and was rewarded with a slew of Emmy nominations.
It gained Scorsese an outstanding direction trophy and is due to come back for a third series this year.
Since his Oscars watershed, the film-maker returned to the craft of music documentary, with Shine a Light and its depiction of a Rolling Stones concert.
He also had a hand in making Living In The Material World, a documentary about late Beatles star George Harrison.
Also, his collaboration with actor Leonardo DiCaprio, which finally gained him Oscar glory for The Departed, continued in earnest.
The pair worked together on Shutter Island (2010), which remains Scorsese's biggest box office smash.
The director, now in his 70th year, shows no sign of slowing down and tackling high profile subjects.
Films about Frank Sinatra and Theodore Roosevelt are in the pipeline, while The Irishman starring his longtime colleague Robert De Niro is also on the slate.
It seems that Scorsese is unlikely to rest on the laurels of his Bafta fellowship.