Obituary: Ronald Searle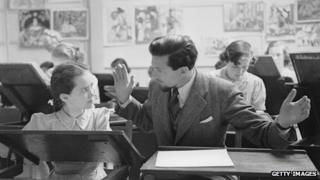 For many people the St Trinian's cartoons define Ronald Searle's career, although he often pointed out that they occupied only five years of his life.
The black humour they contained, which was considered ground-breaking in 1950s Britain, hinted at horrendous experiences Searle underwent as a young man and which shaped the rest of his life.
Born in Cambridge in 1920, his talent as an artist was clear early on. Even as a teenager his cartoons appeared in the local newspaper. Then, when World War II started, Searle joined the army.
At 22, he was captured in Singapore by the Japanese. He spent the rest of the war in appalling, lethal conditions - at first in prison and then as a forced labourer, building the Burma railway in Thailand.
He later said that what he witnessed as a prisoner of war marked him for life. "I was in conditions of total isolation, total brutality - it was slavery. I woke up day after day with men dead on each side of me."
Searle made hundreds of small sketches of the squalor and misery, sometimes hiding them under the bodies of men dying of cholera and fever.
He did not expect to survive.
"What kept me going was that, if I could only show people what it had been like, I would have achieved something in the short life I was likely to have."
But he did make it through the war, and returned to Britain to begin a slow return to physical health. Soon, he was supplying cartoons to magazines of the day such as The Strand and Punch.
Sadistic schoolgirls
He'd drawn his first St Trinian's cartoon in 1941 but post-war the series rapidly became a phenomenal hit. Some of the more sadistic schoolgirl moments - such as a beheading - seemed to be grim parodies of wartime horrors.
From 1954, there was a series of films adapted from the stories. They helped make Searle the best-known cartoonist of the day.
"They say I was one of the fathers of black humour," he said later. "But you have to have a public who will accept it. The fact it succeeded showed that humour had changed."
In 1948, Ronald Searle married the author and publisher Kaye Webb, who later became editor of Puffin Books. They had two children, Kate and John, and in the 1950s were seen as one of London's most glamorous couples.
Searle's distinctively spidery and angular style appeared in books and magazines around the world: He was especially popular in the US, France and Germany. And he was as adept at topical cartoons as he was at illustrating a book by James Thurber or Charles Dickens.
From 1953, the Molesworth books, written with the journalist Geoffrey Willans, went over some of the same ground as St Trinian's - but also had a charm of their own.
Then, in 1961, everything changed.
Searle walked out on his family in London and left Britain for ever. It was, he later said, a "brutal but necessary act of survival" which he acknowledged caused his family great pain.
He spent the rest of his life in France, initially in Paris. In 1967, he married Monica Koenig and they lived together in the tiny Provencal village of Tourtour until her death last year.
Searle continued to draw for publications, especially in continental Europe. But his humour retained an English love of the eccentric, tinged sometimes with nightmare.
His humour was in a line with the great 18th Century satirists James Gillray and Thomas Rowlandson. The German artist George Grosz was a clear influence, too - and his later material was probably more popular in Germany and France than in his homeland.
The young Searle had survived horrors which destroyed hundreds of other men. Yet his awful experiences didn't make him bitter or angry at life. Quite the opposite, as he told the BBC when he turned 85.
"If everyone you know died when you were 19 or 20, you feel like you've got the biggest present in the world. You live from day to day thinking - 'My God! Every day is a present!'"
Searle remained most famous for the work he created in the first half of his career, images with which he grew bored.
But to look at the chilling drawings he did as a young man in World War II in Singapore and Thailand - finally published in book form in the 1980s - is to realise that for all the wit in his work he'd survived horrors which few people ever witness.
It made him the artist he was.