Carol Ann Duffy wins Costa poetry prize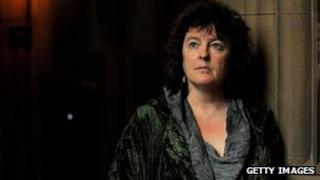 Poet Laureate Carol Ann Duffy has won the Costa poetry prize, while author Andrew Miller has beaten Booker winner Julian Barnes to take best novel.
Former Great Ormond St nurse Christie Watson picked up best first novel for Tiny Sunbirds Far Away.
Poet and debut biographer Matthew Hollis beat off stiff competition from Claire Tomalin's best-selling life of Charles Dickens to win best biography.
His book is about the war poet, Edward Thomas, who died in battle in 1917.
Now All Roads Leads to France: The Last Years of Edward Thomas focuses on the Welsh poet's final five years, particularly his friendship with American poet Robert Frost.
Duffy won the poetry category for her latest collection, The Bees, her first since being appointed Poet Laureate in 2009.
Watson's debut is a family drama set in the Niger Delta.
Miller's book Pure, a parable of the French Revolution, was described by the judges as "a novel without a weakness from an author who we all feel deserves a wider readership".
Former opera singer and debut children's writer, Moira Young, won the children's book award for Blood Red Road.
Her thriller sees heroine Saba embark on a quest to save her twin brother Lugh from an evil king, who kidnaps him for a human sacrifice.
Her book is currently being adapted for the big screen by Scott Free, Ridley Scott's production company.
All five books will now compete for the 2011 Costa Book of the Year, which will be announced in London on 24 January.
Each of the finalists, who were selected from more than 550 entries, will receive £5,000 in prize money.
The winner will be selected by a panel of judges which includes actress Dervla Kirwan and newsreader Mary Nightingale and is chaired by the editor of London's Evening Standard, Geordie Greig.
The winner will also receive an additional £30,000.
Last year's Costa Book Prize went to Jo Shapcott for her poetry collection, Of Mutability.