Hockney takes a swipe at Hirst technique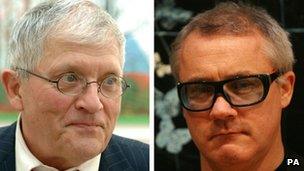 David Hockney has taken a swipe at artists such as Damien Hirst, who use assistants to complete their artworks.
Hockney, 74, has a poster advertising his new exhibition which reads: "All the works here were made by the artist himself, personally".
Asked in a Radio Times interview if he was having a dig at Hirst, Hockney said: "It's a little insulting to craftsmen, skilful craftsmen."
Hirst has previously defended using assistants to complete his paintings.
He employs up to 100 people in a "factory" that works as a production line for his spot paintings and completes the painstaking work on installations like his diamond-studded skulls.
Speaking to Time Out in 2006, Hirst likened himself to an architect running a practice, rather than a traditional artist.
"I sit in a chair and watch, while they do the work," he said.
"I employ about 100 people... It's too many; it feels more comfortable at about 60, otherwise I lose my involvement. I need to know everybody, to be aware of their strengths and weaknesses."
Hirst is not the only artist to employ assistants - Jeff Koons, Andy Warhol and sculptor John Chamberlain have all used them.
Before the impressionist movement of the 19th century placed an emphasis on personal vision, even masters such as Michelangelo, Rubens and Rembrandt all relied on assistants and apprentices.
In the Radio Times, Hockney said: "I used to point out at art school, you can teach the craft, it's the poetry you can't teach. But now they try to teach the poetry and not the craft."
He also quoted a Chinese saying, that to paint "you need the eye, the hand and the heart. The two won't do".
Hockney's exhibition, David Hockney: A Bigger Picture, opens at the Royal Academy later this month. He told the Radio Times he had spent three years working on it.
The artist has just been appointed a member of the Order of Merit by the Queen - despite turning down a knighthood in 1990.
Related Internet Links
The BBC is not responsible for the content of external sites.