Berlin Film Festival to honour Meryl Streep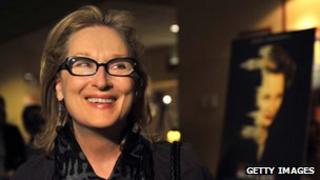 Meryl Streep is to be honoured at this year's Berlin Film Festival, which takes place next month.
Streep will be presented with the honorary Golden Bear award, the festival's highest accolade, on 14 February.
"Meryl Streep is a brilliant, versatile performer who moves with ease between dramatic and comedic roles," said festival director Dieter Kosslick.
Streep's latest film, The Iron Lady, will be screened at the festival.
It will also showcase some of her previous films, including Sophie's Choice, Kramer vs Kramer, The Bridges of Madison County and Out of Africa.
In 1999, Streep won the Berlinale Camera award, and in 2003, she shared the Silver Bear prize for The Hours with Julianne Moore and Nicole Kidman.
In 2006, she appeared in competition in Robert Altman's ensemble comedy, A Prairie Home Companion.
Streep has appeared in more than 40 films and has had a record 16 Oscar nominations, winning two for her performances in Sophie's Choice (1982) and Kramer vs Kramer (1979).
The Berlin Film Festival launches on 9 February.