Cruise's new Mission stays top of US box office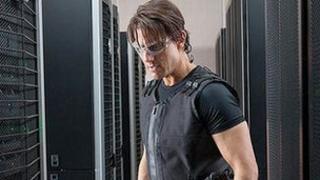 Tom Cruise's Mission: Impossible - Ghost Protocol has topped the US box office chart for the second week running, according to studio estimates.
The action movie made $31.3m (£20.1m), which brings its US total to $134.1m since its release.
It marks the first $100 million hit with Cruise in the lead role since 2006's Mission: Impossible III.
The rest of this weekend's top-three remained unchanged, including Sherlock Holmes: A Game of Shadows second.
The Robert Downey Jr film made $22.1m, raising its domestic total to $132.1m.
Family film Alvin and the Chipmunks: Chipwrecked, was still at number three.
Steven Spielberg's War Horse was fourth.
David Fincher's The Girl with the Dragon Tattoo rounded out the top five with takings of $16.3m.
"This week was a pleasant surprise," said Hollywood.com analyst Paul Dergarabedian.
"Last week, we were really pretty gloom and doom, but this final push at the end of the year was stronger than expected. It's a good way to head into 2012, with at least a little bit of momentum at the box office."
But the website also noted that 2011 admissions were down 4.2% on 2010's figures.
Big titles coming up in 2012 include The Dark Knight Rises, The Amazing Spider-Man, Men In Black 3, The Hobbit: An Unexpected Journey and the latest Bond film, Skyfall.