Helena Bonham Carter's many faces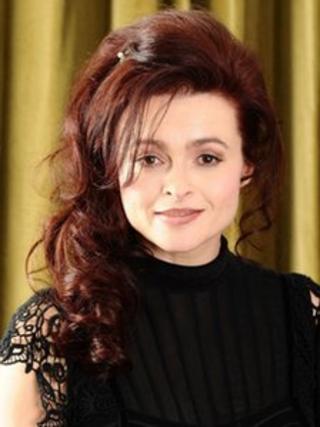 British actress Helena Bonham Carter has been recognised in the New Year Honours list.
Bonham Carter, 45, who played the Queen Mother alongside Colin Firth in The King's Speech, is made a CBE for services to drama.
Born in Golders Green in London, the actress embarked on her acting career when she was still at school. She is the great-granddaughter of former Liberal Party leader and prime minister Herbert Asquith.
Bonham Carter made her acting debut in 1983 in a TV adaption of A Pattern of Roses.
After her feature film debut in 1986 in Trevor Nunn's Lady Jane, she was immediately offered the lead role opposite Dame Maggie Smith in A Room with a View.
She went on to star in two more screen adaptations of EM Forster novels - Where Angels Fear to Tread and Howards End - earning herself an "English rose" reputation.
Bonham Carter's other early film work includes Hamlet, opposite Mel Gibson, and Mary Shelley's Frankenstein with Robert De Niro.
She also appeared in a couple of episodes of the US crime drama Miami Vice and the BBC sitcom, Absolutely Fabulous.
After roles in Trevor Nunn's Twelfth Night and Woody Allen's Mighty Aphrodite, Bonham Carter won her first Academy Award nomination for her portrayal of Kate Croy in the 1997 movie adaption of The Wings of the Dove.
David Fincher's Fight Club (1999) marked a change in direction for Bonham Carter's career. Her chain-smoking character Marla Singer signalled to Hollywood that she was also able to play more off-beat and contemporary roles.
In 2001 she landed a leading part in science fiction film, Planet Of The Apes, where she met her long-term partner, the director Tim Burton.
Burton, best known for his dark and quirky movies, has since cast Bonham Carter in several of his films - including Charlie and the Chocolate Factory, Sweeney Todd and Alice in Wonderland.
The couple have two children and in the past have spoken openly about their unusual living arrangements, which sees them live in separate houses with adjoining doors.
Bonham Carter earned a second Oscar nomination for The King's Speech. Her role as Queen Elizabeth won her a best supporting actress Bafta.
She filmed The King's Speech at the same time as playing evil Bellatrix Lestrange in the Harry Potter and the Deathly Hallows movies.
"Potter was during the week and The King's Speech was my weekend job," she told the BBC in an interview in 2010. "It was a bit schizophrenic. My little son would say, 'Mum, do you have to be the witch or the queen tomorrow?'"
Bonham Carter had joined the Potter cast in 2007's Order of the Phoenix.
She also had a cameo role in 2009's Terminator Salvation, and recent TV roles include Enid, Toast and animated shorts The Gruffalo and The Gruffalo's Child.
Current projects include Mike Newell's new film version of Great Expectations, in which she plays Miss Havisham, and Tim Burton's Dark Shadows.
In 2012 she will appear in the film version of the musical Les Miserables, which will reunite her with King's Speech director Tom Hooper.
Away from screen and stage, the London-based actress has raised eyebrows for her eccentric and unconventional dress sense. She turned up at the most recent Golden Globes with mismatched red and green shoes.
Talking about her eclectic roles, Bonham Carter told the BBC last year: "I've had the luck to have choice, but different things bring out different parts of one.
"If something's well written, or you're in the hands of a director who knows what they're doing, then a lot of the work is done for you."
"You just do your homework, which is the fun bit for me."