Rapper Heavy D killed by DVT, coroner says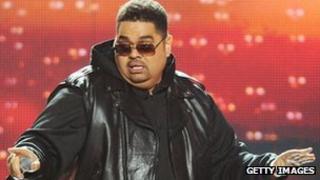 The sudden death of rapper Heavy D was due to a pulmonary embolism caused by deep leg vein thrombosis (DVT), a Los Angeles coroner has decided.
The US hip-hop star died on 8 November after having difficulty breathing.
The results of an initial post-mortem proved inconclusive in determining why the 44-year-old died.
A pulmonary embolism is a blockage of an artery in the lung, often caused by a blood clot that travels to another part of the body.
The condition is sometimes associated with long distance air travel.
Police said the rapper collapsed in an exterior hallway at his Los Angeles home after returning from shopping. He was transported to Cedars Sinai Medical Center where he later died.
According to the Los Angeles Coroner's office, no drugs or alcohol were involved in the rapper's death.
His weight, heart disease and a recent transcontinental jet flight were cited as contributing factors.
Born Dwight Arrington Myers in Jamaica in 1967, Heavy D found fame with his band The Boyz and had hits with such tracks as Now That We Found Love.
He appeared on Michael Jackson's 1991 song Jam and performed at the singer's tribute concert in Cardiff last October.
John Legend, Queen Latifah, Will Smith and Usher were among the celebrities in attendance at his New York funeral.