Tracey Emin to donate Royal Academy wage to students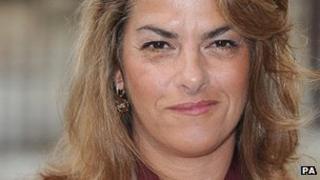 Artist Tracey Emin has revealed that she will donate her Royal Academy teaching wage to her students.
The Turner Prize nominee told Radio 4's Front Row she would spend the money on artists' materials to use in classes.
It was announced last week that Emin had been appointed Professor of Drawing at the art school - one of the first female professors in its history.
"I will give [the wage] back to the students so everyone benefits from it really," she said.
"I did spend seven years learning to draw and then after that, I broke it down to work within my own style," the artist said.
"I'm a real advocate of drawing and I think there isn't enough literal drawing in art schools. It's very good for the soul as well and good for the memory."
However, Emin said the role would not necessarily see her lecture in a traditional sense: "It's a wonderful position because I actually dictate how the drawing classes can be," she said.
"I can work with students individually, I can give tutorials or I can do drawing courses - it's absolutely up to me what I do."
Emin earned a master's degree at the Royal College of Art and first exhibited at the Royal Academy in 1997 with one of her best-known works, a tent embroidered with the name of Everyone I Have Slept With 1963-1995.
She became a Turner nominee in 1999, for the controversial My Bed installation, and has been seen around the world.
Emin is due to guest edit Radio 4's Today programme on 28 December.
The Tracey Emin interview can be heard in full on Front Row at 1915GMT.