Tim Minchin fumes over song cut from Jonathan Ross show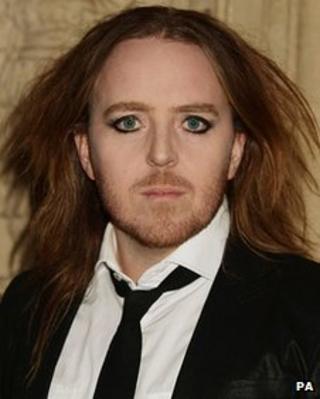 Comedian Tim Minchin has lashed out at ITV after his performance was cut from Jonathan Ross's Christmas special.
Writing on his website, Minchin said he had been asked to compose a song for the show and wrote a "silly, harmless" lyric comparing Jesus to Woody Allen.
He claims the song - which he describes as "not very contentious" - was cut because the broadcaster feared it might generate negative press attention.
In a statement, ITV said Minchin's song "didn't quite work editorially".
The broadcaster felt the song was "not right tonally" for the rest of the chat show, the BBC was told.
Ross, whose chat show moved to ITV1 earlier this year, defended Minchin's song on Twitter.
"Really gutted that the brilliant @timminchin song has been cut from my show," he wrote. "[The] decision was out of my hands."
Minchin, who co-wrote the Royal Shakespeare Company's critically acclaimed Matilda: The Musical, posted footage of the performance on his YouTube page on Thursday.
The lyrics describe Jesus as "short, Jewish and quite political/often hesitant and quite analytical," before concluding: "Praise be to Woody Allen Jesus."
"It's not a particularly original idea, but it's quite cute," wrote the comedian on his blog.
"Being TV, I knew it would have to be gentle."
Nervous
Minchin goes on to say how the first edit of the chat show retained the song in full.
"And then someone got nervous and sent the tape to ITV's director of television, Peter Fincham," he alleges.
Mr Fincham, Minchin claims, "demanded that I be cut from the show... because he's scared of the ranty... right-wing press."
"It's hardly the end of the world," he concedes. "But I have to admit I'm really... disappointed."
ITV said the decision to cut the song would have been taken by senior executives in conjunction with Jonathan Ross's production company, Hot Sauce.
It did not confirm Mr Fincham's involvement directly. But it is likely the broadcaster's director of television would have final approval of the programme, to be broadcast on 23 December.
"We often make changes to programmes before transmission," ITV said in its statement.