New Turner watercolour for Scottish gallery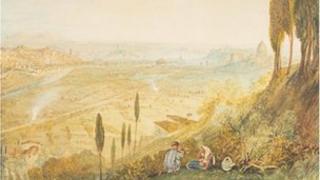 Edinburgh's National Gallery of Scotland has acquired a major Turner watercolour, to be shown at the annual Turner in January exhibition next year.
Rome from Monte Mario was bequeathed to the gallery as part of the Acceptance in Lieu of Tax (AIL) scheme.
It is part of a set of scenes, created for his patron Walter Fawkes, after Turner's first visit to Rome in 1819.
The gallery couldn't reveal the donor's name, but the most recent known owner was shipping magnate Donald Currie.
The Art in Lieu scheme enables UK taxpayers to transfer important works of art into public ownership.
Auction record
The painting will join the 38 Turner watercolours, which were gifted to the gallery in 1899 by English collector Henry Vaughan.
Aware of the importance of conserving watercolours, which can fade if over-exposed, Vaughan specified that his Turners should only be displayed during January.
In respect of his wishes, the annual Turner exhibition has taken place at the Edinburgh gallery for over 110 years.
An 1839 Turner painting, depicting the Campo Vaccino in Rome, sold for a record £29.7m at an auction in London last year. It was bought by the Getty Museum in Los Angeles.