James Franco 'set for film cameo as Hugh Hefner'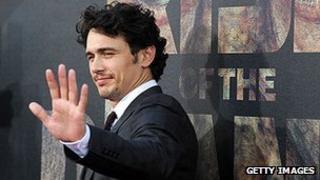 Actor James Franco is poised to portray Playboy founder Hugh Hefner in a film about porn actress Linda Lovelace, industry publication Variety reports.
It said the 33-year-old will take the cameo role if his schedule allows it.
Franco was originally considered to play the actress's husband Chuck Traynor in Lovelace, a role now being filled by Peter Sarsgaard.
Mamma Mia star Amanda Seyfried will play Linda herself, who shot to fame in erotic movie Deep Throat.
The 1972 release was the first pornographic film widely seen in cinemas and made an estimated $600m (£382m).
Franco's appearance is expected to take just one day to film.
It will show Hefner welcoming Lovelace to his Playboy mansion for a screening of Deep Throat, and a scene in which he discusses Linda's future with her.
The movie, due for release next year, also features Sharon Stone as Lovelace's mother and Sex and the City star Chris Noth as one of Deep Throat's financial backers.
Production on the film started this week in Los Angeles.
Franco's other credits include Rise of the Planet of the Apes and 127 Hours, a performance which gained him an Oscar nomination this year.
Lovelace, who later claimed Traynor had forced her into pornography, died in 2002 after being involved in a car accident.
Playboy founder Hefner celebrated his 85th birthday this year.