Lacoste Prize cancelled amid censorship row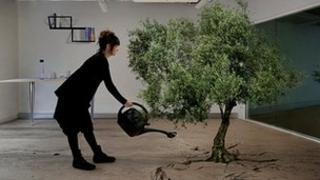 A Swiss art prize worth 25,000 euros (£21,000) has been cancelled amid controversy the organisers censored one of the nominees.
Jerusalem-born artist Larissa Sansour claims she was taken off the shortlist for being "too pro-Palestinian".
The Elysee Museum in Lausanne, Switzerland said it was the prize's sponsors, clothing company Lacoste, who decided to exclude Sansour.
Lacoste denied the accusation and withdrew their sponsorship.
Sansour was among eight finalists shortlisted for the photography prize for her Nation Estate project.
Her trio of images was inspired by Palestine's attempt to gain UN recognition and depicts a skyscraper housing the Palestinian population.
Having submitted preliminary sketches for her work to the committee in November, Sansour received a 4,000 euros (£3,300) working grant from Lacoste.
The news of her removal earlier this week came as a complete surprise, she said.
Sansour told The Independent she had been told by senior staff at the museum that the reason for her removal was allegedly because her work was considered by Lacoste to be "too pro-Palestinian".
Organisers released a statement on Wednesday saying her work had been deemed inappropriate for the prize, which had a "Joie de Vivre" theme.
'Wrongful allegations'
The gallery later released another statement suspending the contest and its relationship with Lacoste, in support of the artist.
"The Musee de l'Elysee has based its decision on the private partner's wish to exclude Larissa Sansour, one of the prize nominees," it said.
"Each nominee had carte blanche to interpret the theme in whichever way they favoured, in a direct or indirect manner, with authenticity or irony.
"We reaffirm our support to Larissa Sansour for the artistic quality of her work and her dedication."
Sansour told the Artinfo website on Wednesday afternoon she was "thrilled" with the gallery's decision to stand by her.
"As a Palestinian artist, this is not the first time works of mine or shows I have been in have been exposed to politically-motivated pressure," she said.
The gallery's statement was quickly followed by one from Lacoste, in which the French brand denied the claims and said it had taken part in no wrongdoing.
"Lacoste's reputation is at stake for false reasons and wrongful allegations," it said on Wednesday evening.
"After receiving works from all entries, Lacoste and the Musee de l'Elysee felt the work at hand did not belong in the theme of 'joie de vivre' (happiness).
"Never was Lacoste's intention to exclude any work on political grounds. The brand would not have otherwise agreed to the selection of Ms Sansour in the first place.
"In light of this situation and to avoid any misunderstanding, Lacoste has decided to cancel once and for all its participation in this event and its support to the Elysee Prize."
The row comes at a time at which the issue of corporate sponsorship of the arts has come under increasing scrutiny.
Earlier this week oil giant BP said it will continue to sponsor four leading arts institution despite concerns being raised over its involvement.
Their announcement followed news that two poets had withdrawn their names from the TS Eliot Prize in protest over its sponsorship by an investment firm.