Caitlin Moran's How To Be A Woman wins best book prize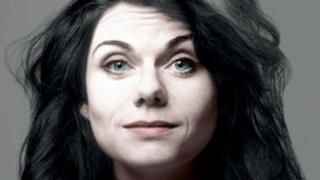 Caitlin Moran's How To Be A Woman has won the Galaxy book of the year award.
A public vote crowned the journalist's semi-autobiographical tome the winner ahead of titles by Dawn French, Claire Tomalin and seven others.
Moran's title was named most popular non-fiction book at the National Book Awards last month.
The Times columnist said it was "a total honour and thrill" for her book to be named overall book of the year ahead of the other 10 category winners.
"Obviously Rear of the Year is the one I've always been gunning for," she said.
"But since I found out it's judged on 'form' rather than 'sheer volume', then Book of the Year... enables me to chow down on a hog roast over Christmas without worrying about fitting into my jeggings."
How To Be A Woman takes a humorous look at the way feminism and women have changed over the years.
Its success came at the expense of such other titles as French's A Tiny Bit Marvellous, winner of the fiction book of the year prize, and Emma Donoghue's Room, winner in the best paperback category.
Last year's book of the year, David Nicholls' One Day, went on to become the biggest selling paperback of 2011.