Military Wives Choir captures Christmas number one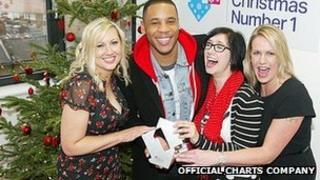 The Military Wives Choir has scooped the Christmas number one, knocking X Factor's Little Mix off the top spot.
Wherever You Are sold 556,000 copies in the last week, more than the rest of the top 12 combined, the Official Charts Company said.
Little Mix, at number two, sold 117,000 records across the week.
The 100-strong choir was put together by Gareth Malone for the BBC Two series The Choir, which culminated in a performance at the Royal Albert Hall.
Choir member Emma Williams, 33, celebrated with husband Staff Sergeant Gavin Williams, 34, a fuel engineer with the Royal Logistic Regiment, Royal Marines, at their home in Chivenor in North Devon.
He returned from Camp Bastion, Afghanistan, the week before the choir sang at the Royal Albert Hall in October.
Mrs Williams said it was "brilliant" for the two charities supported by the record - the British Legion and the SSAFA (Soldiers, Sailors, Airmen and Families Association).
"It's absolutely fantastic," she said.
"I can't believe that I can actually sit here on Christmas Day and say I've got a single out that is number one... it feels unreal."
She added: "It isn't very nice to be apart from loved ones and there are thousands across the country that can't be together this Christmas for whatever reason, and for them we pray for you and wish you a merry Christmas - if not this year then definitely next year."
The lyrics of Wherever You Are were taken from love poems, which were written between the women and their absent husbands.
Earlier this week, the government said it would donate VAT raised on the single to the charities supporting servicemen and women.
Elsewhere in the charts Lou Monte's Dominick The Donkey, which has been championed by BBC Radio 1's Chris Moyles Breakfast Show, made it to number three, 51 years after it was released in 1960.
Moyles said: "We've been playing Dominick the Donkey on our show every Christmas for years - our listeners love it.
"I'm so excited that it's made it into the charts - consider it my Christmas present to the nation.
"But don't blame me if you hear it every Christmas from now on."
YouTube musician Alex Day also made it into the top five with self-released single Forever Yours, and a Facebook campaign got Nirvana's Smells Like Teen Spirit up to Number 11, with sales of over 30,000 copies.
Michael Buble topped the album chart, becoming the fourth album of 2011 to pass the one million sales threshold to also become the biggest seller of December.
His closest rival was the posthumous release of Amy Winehouse's final recording Lioness, alongside albums by Olly Murs, Coldplay and the Now! 80 compilation.