David Tennant voices Chitty Chitty Bang Bang sequel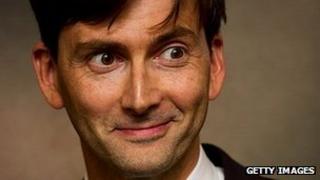 Doctor Who star David Tennant has lent his voice to a new audio download of Chitty Chitty Bang Bang Flies Again.
The star was asked by the family of James Bond author Ian Fleming, who penned the original Chitty Chitty Bang Bang story, to voice the audio book.
Novelist Frank Cottrell Boyce's sequel about the magical flying car, was first published in October.
Fleming's niece said Tennant's voice brought the story to life with a "wry humour and great characterisation".
Lucy Fleming said: "We are thrilled that David agreed to read the audio book. He is such a talented actor and his voice brings Frank Cottrell Boyce's story to life.
"Chitty could not have been in safer hands with him behind the wheel."
An interview between Ms Fleming and Tennant has also been released, along with the download.
Tennant described the story as "very clever, slightly surreal and hugely readable".
During the interview, Ms Fleming and Tennant also discuss the James Bond connections that Boyce wrote into the story in tribute to Fleming.
The writer created Chitty Chitty Bang Bang, which was adapted into a film in 1968 - four years after his death, as a bedtime story for his son.
It has also since become a hit on the West End stage.
The famous flying car is the only original character in the sequel, which is the first of three books that have been commissioned
The Guardian's John Lacey reviewed the story earlier this year, and said it was "much funnier and more engaging than Fleming's original novel".