Sherlock Holmes: A Game Of Shadows tops box office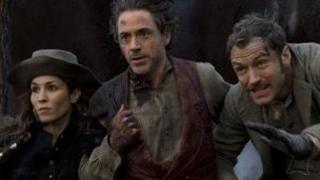 Guy Ritchie's Sherlock Holmes sequel, starring Robert Downey Jr and Jude Law, has topped the UK and Ireland box office, taking £3.8m over the weekend.
Sherlock Holmes: A Game Of Shadows sees Watson and Holmes traverse Europe to investigate a series of crimes.
Alvin And The Chipmunks: Chipwrecked, starring the voice of Jason Lee, was at number two, with takings of £2.4m.
Last week's number one, the 3D animation Puss In Boots, dropped to number four, with £1.3m.
Between the two was seasonal animation Arthur Christmas, which fell one place to three, taking £1.3m.
The Aardman animations production has now made more than £15m at the UK box office.
Romantic comedy New Year's Eve, starring Zac Efron and Sarah Jessica Parker amongst others, dropped two positions to number five, with £846,761.
Meanwhile a limited re-release of Christmas classic It's A Wonderful Life appeared in the box office chart at 15.
The James Stewart fable only played in 36 cinemas, but still took £46,000. On a screen-by-screen basis, that made it the sixth most popular film in the UK last weekend.
Earlier this month, Sherlock Holmes director Guy Ritchie told the BBC News website how he had nearly succumbed to the "curse of the sequel".
"About halfway through the movie we started feeling that we were branching out too far so we made a concerted effort to make the story cleaner," he said.
"Film-making is not a science. If your unconscious goes 'Oh mate, that sounds fishy,' it usually is."