Dominic Cooke to depart from Royal Court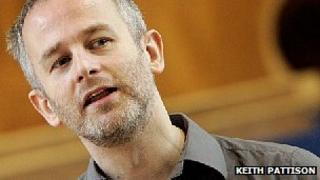 Dominic Cooke is to step down as artistic director of the Royal Court in 2013, the London theatre has announced.
In a statement, it said Cooke was leaving to focus on freelance work but would still oversee two further seasons before his departure.
Cooke will have held his role for seven years by the time he leaves, following eight years as an associate director.
Executive director Kate Horton is also leaving next spring to join the National Theatre.
"After nearly 15 years... it feels like the right point to begin the process of handing over to a new artistic director," said Cooke.
"By the time I leave Sloane Square, I will have produced around 100 new plays."
During his time with the Royal Court it has received more than 189 award nominations and won 56 awards, including three Oliviers this year.
He also oversaw West End and Broadway transfers, including Clybourne Park and Jerusalem.
His many directing credits while at the Royal Court include Aunt Dan and Lemon, Rhinoceros and The Pain and the Itch.
Recently he directed The Comedy of Errors at the National Theatre, starring Lenny Henry.
Cooke will next direct David Eldridge's In Basildon at the Court, opening on 16 February.