Little Mix rocket to number one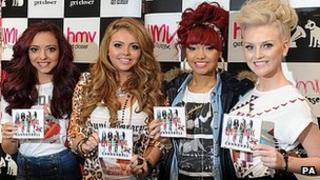 X Factor winners Little Mix have shot to number one with their debut single, a cover of Damien Rice's Cannonball.
The girl band sold 210,000 copies of their record to reach the top in the week after their talent show victory.
"Thanks for supporting us, even after the X Factor," singer Perrie Edwards told fans.
Despite their achievement, the quartet have suffered the lowest first-week sales of any X Factor winner since Steve Brookstein.
He sold 127,701 copies of his Phil Collins cover version Against All Odds in 2004.
Shayne Ward was the most successful, shifting 742,180 singles in seven days in 2005.
Little Mix's sales are likely to have been hit by a combination of lower than normal viewing figures for X Factor, and the closure of dozens of record shops during 2011.
Yet they still racked up the biggest number of first-week sales this year and outsold the rest of the top five put together.
Over the next week they will find themselves locked in a chart battle for the Christmas number one, with singles by Nirvana, Coldplay and the Military Wives Choir all vying for the top spot.
Bookmakers have selected the choir, made up of women whose spouses and partners have served with British forces in Afghanistan, as the favourites for the festive honour.
Their single, Wherever You Are, has already topped pre-order charts on Amazon and iTunes.
"I think we have a good chance of getting to number one," said lead singer Sam Stephenson.
"I don't want to be too complacent, but I don't want to be too cynical either.
"For us it would be the icing on the cake if we did get to number one."
Coldplay have the current number two single with the anthemic Paradise, while Nirvana's Smells Like Teen Spirit is receiving a limited edition vinyl re-release after an online campaign to see it take the Christmas top spot.
The Official Charts Company will reveal the winner in a Christmas Day countdown next Sunday and will reward them with a trophy to mark their achievement.
Created to mark the 60th anniversary of the singles chart, the Official Singles Chart Number 1 Award will be presented to every act who takes the top spot as part of Radio 1's countdown show.
Apart from Little Mix, there were only a handful of new entries in the Top 40 in this week's chart.
One was by previous X Factor winner Leona Lewis, whose cover of Nine Inch Nail's Hurt landed at seven.
Another was Rice's original version of Cannonball, which appeared at 19.
Brighton-based rap duo Rizzle Kicks also saw their latest single, Mama Do The Hump, enter the Top 40 at number 18.
Elsewhere, Rihanna's You Da One climbed to 35 from last week's 49.
The Christmas spirit continued to exert an influence on record-buyers, with season tracks by Mariah Carey, The Pogues, Wham and Wizzard all featuring in the countdown.
Olly Murs' Dance With Me Tonight, Lloyd's Dedication To My Ex and Rihanna's We Found Love round out this week's Top Five.
In the album chart, Michael Buble's Christmas album rose one place to claim the top spot, swapping places with Amy Winehouse's posthumous Lioness CD.
Coldplay took third position with Mylo Xyloto, while Olly Murs' In Case You Didn't Know and Rihanna's Talk That Talk were non-movers at four and five respectively.
Chart company figures show that 2011 has been the biggest year on record for singles sales, with 164 million tracks sold so far.