Sherlock Holmes sequel leads US box office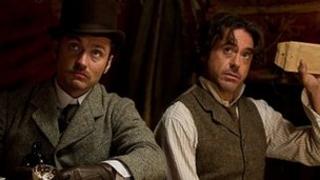 Sherlock Holmes: A Game of Shadows has topped the US and Canada box office in a slow weekend of takings.
The adventure sequel, starring Robert Downey Jr and Jude Law, made $40m (£25.8m), down on the $62.3m (£40.2m) opening the first Holmes had in 2009.
Alvin and the Chipmunks: Chipwrecked came in at two with $23.5m (£15.2m) - about half of what its two predecessors made in their opening weekends.
It is hoped box office takings will improve as the Christmas period begins.
There was positive news for Tom Cruise's Mission: Impossible - Ghost Protocol, which opened at number three.
The film - playing exclusively at Imax screens and other large-format cinemas - took $13m (£8.4m) after opening at just 425 locations.
In contrast, Sherlock Holmes 2 and Alvin and the Chipmunks 3 played in more than 3,700 cinemas each.
Ghost Protocol, the fourth instalment in the Mission: Impossible series, goes on general release in North America on Wednesday.
Romantic ensemble comedy New Year's Eve fell to four in its second week of release with a weekend haul of $7.4m (£4.8m).
Jonah Hill comedy The Sitter was at five, having earned $4.4m (£2.8m) between Friday and Sunday.
Following the worst box office weekend in three years, overall business was down again - about 12% lower than the same weekend in 2010.
"The momentum we have lost over the past few weeks has taken its toll on the bottom line," said box office analyst Paul Dergarabedian.