Beach Boys to reunite for 50th anniversary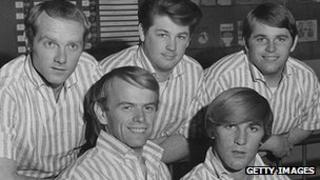 US band The Beach Boys have announced plans to reunite for their 50th anniversary next year.
The five-piece, which includes founding members Brian Wilson, Mike Love and Al Jardine will embark upon a 50-date world tour and record a new album.
Jardine said they will appear at the Grammy Awards on 12 February and "do something really exciting".
The band, whose hits include Good Vibrations, will stage their first gig in New Orleans on 27 April.
The surviving original Beach Boys will be joined by Bruce Johnston and David Marks, who have been associated with the group for decades.
Wilson said: "This anniversary is special to me because I miss the boys, and it will be a thrill for me to make a new record and be on stage with them again."
Love added: "Music has been the unifying and harmonising fact of life in our family since childhood.
"It has been a huge blessing that we have been able to share with the world."
In reference to two of the Beach Boys's best-known hits, he said: "Wouldn't It Be Nice to Do It Again? Absolutely!"
Wilson's brothers, Dennis and Carl - who were among the original line-up - died in 1983 and 1998.
The band, whose sound was evocative of the West Coast beach lifestyle of the US, were hugely successful in the 1960s but this waned with the gradual departure of chief songwriter Brian Wilson from the band due to psychological problems and drug use.
In the 1980s and beyond, the group were mired in a series of legal wrangles over the use of their name, with Love and Jardine settling a row out of court in 2008.
Wilson went on to embark upon a solo career, recently finishing work on Smile, a Beach Boys album which had been abandoned decades earlier and was the follow-up to their landmark collection Pet Sounds.