Victoria Wood and Stewart Lee win British comedy awards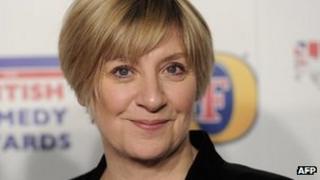 Stewart Lee, Victoria Wood, Miranda Hart and the cast of The Inbetweeners were among the winners at the 2011 British Comedy Awards in London.
Lee won best male television comic and best comedy entertainment programme and Wood best female television comic.
Hart said she was shocked to win best comedy actress a second year running and wanted to get home quickly "put the kettle on and get in my onesie".
Kylie Minogue gave The Inbetweeners cast an outstanding achievement award.
Newly anointed queen of comedy Sarah Millican said on a live link-up to the awards ceremony that she was "thrilled" to be awarded the title by viewers.
Actress Dame Helen Mirren presented a lifetime achievement award to Have I Got News For You and said backstage that she thought British comedy was "in an incredible spot".
"There have always been great female comedians but there has been a real rise in modern female comics," she said.
Bob Mortimer, Vic Reeves and other regulars from the recently axed show Shooting Stars accepted an award for best comedy show.
Business Secretary Vince Cable presented Darren Boyd - who most recently played John Cleese in Holy Flying Circus - with the best comedy actor award.
Mr Cable told attendees: "He (David Cameron) wanted to stop me from coming on the show but Nick Clegg put his foot down and said 'you're only the prime minister, you are only allowed one veto a month'."
2011 British Comedy Award winners:
Best new comedy programme: Fresh Meat, Channel 4
Best comedy entertainment programme: Stewart Lee's Comedy Vehicle, BBC
Best sketch show: Horrible Histories, CBBC
Best comedy panel show: Shooting Stars, BBC
Best sitcom: Twenty Twelve, BBC
Best comedy drama: Psychoville, BBC
Best comedy entertainment personality: Graham Norton, The Graham Norton Show, BBC
Best TV comedy actor: Darren Boyd, Spy, Sky
Best TV comedy actress: Miranda Hart, Miranda, BBC
Best comedy breakthrough artist: Dan Skinner, Shooting Stars, BBC
Best male television comic: Stewart Lee, Stewart Lee's Comedy Vehicle, BBC
Best female television comic: Victoria Wood, Victoria Wood's Angina Monologues, Sky
The Writers' Guild of Great Britain award: Armando Iannucci
The British Comedy Academy outstanding achievement award: The Inbetweeners
The British Comedy Academy lifetime achievement award: Have I Got News For You
The Channel 4 award for special contribution to comedy: Lee Evans